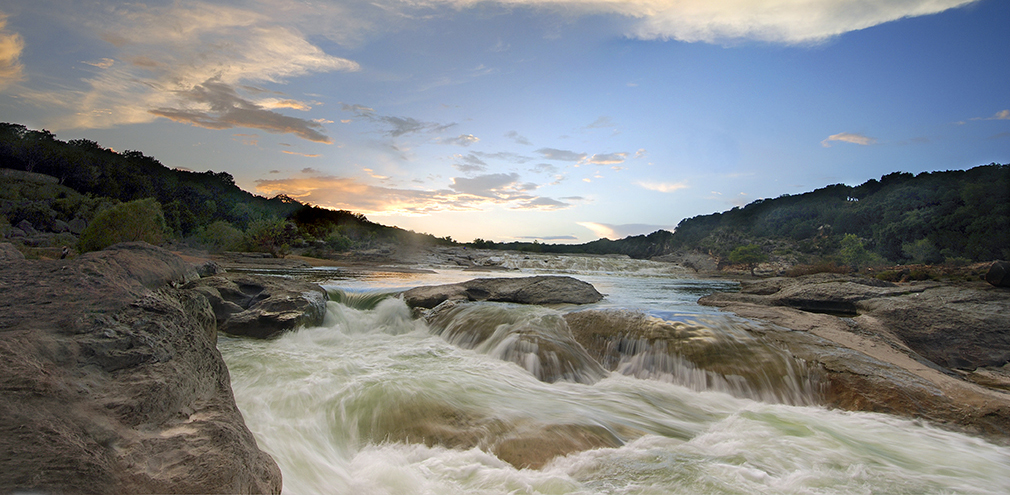 Photo: Lois Schubert
Groundwater Resources
Groundwater is one of the most valuable resources in the Hill Country. Our underground aquifers provide water for homes, businesses and agriculture. Groundwater also serves as the reserve supply for future residents, since most aquifers do not recharge as quickly as we deplete them. Our aquifers are a vitally important source of water for the Hill Country's hidden gems: our springs, small streams and creeks and clear running rivers. However, our groundwater supply is limited and under increasing pressure from a growing population. If this resource is to sustain our communities, future generations and the environmental treasures of the Hill Country, it must be carefully managed.
Upcoming Groundwater Management Area (GMA) meetings:
GMA-7: January 19th, 2017. Fredericksburg
GMA-9: TBD
GMA-10: TBD
Read HCA's issue paper on Groundwater Supply
Read HCA's issue paper on Surface and Groundwater Policy Integration
View Raymond Slade's Presentation on Current and Future Water Shortages
HCA's mapping resources are available to help visualize the hydrology of the region. By viewing our interactive map tool, you can see areas that are more vulnerable to groundwater degradation, regional aquifers, groundwater districts, watersheds and more.
Static resource maps are also available to view and download here.
The Rule of Capture and the DFC Process
The law in Texas generally provides that landowners have the right to capture and use the groundwater beneath their land under a doctrine called the Rule of Capture. However, the Texas Legislature has recognized the need for groundwater management by establishing numerous local Groundwater Conservation Districts (GCDs) to develop groundwater management plans, regulate the spacing and production of wells and monitor aquifer conditions. Since aquifers don't follow political boundaries, these districts also work together to manage shared aquifers through Groundwater Management Area (GMA) programs. These GMAs are directed to come up with "desired future conditions" (DFCs) for the aquifers: they must agree upon how much water can and should be pumped now and in the future and how that pumping will affect the future state of the aquifer. Most often, the DFC is an average aquifer draw-down measured in feet. Some GCDs measure their DFCs as specific spring-flow rates. GMAs throughout the state will begin the second round of this process in the Fall of 2015, and the decisions they make will impact future generations.
The DFC process was established in 2005. It is to be reviewed on a five year cycle, and is overseen by the Texas Water Development Board. In the Hill Country's GMA 9, the 30-foot DFC was not popular by many and considered to be a major threat to spring flow. Now is the time to get involved and work towards a more conservative DFC by 2016.
Your opinion matters. To inform your Groundwater District of the future that you desire for your aquifer, go to the excellent Our Desired Future website.
Much more on this topic including many comments and resources from the DFC decision making process here.
More information from TWDB on the DFC process
The Central Texas Hill Country area includes all of GMA 9 and parts of GMA 7, 8, and 10.

(click on map to view full size version)
View a map of all of the GMA's in Texas and more information from the Texas Water Development Board.
Current groundwater transfer plans affecting the Hill Country
There are numerous existing and proposed water plans that call for transfers of water from one area to another. Hydrologists recognize the economic and ecologic perils of dewatering one region to satisfy the desires of another. There are proven examples of unregulated sprawl generated by externally sourced water supplies. Unregulated sprawl creates a variety of stresses that put the Hill Country's clean rivers and aquifers at risk.
One controversial project is the San Antonio Water System's partnership with the Spanish infrastructure corporation Abengoa. The $3.4 Billion SAWS/Vista Ridge Pipeline Project proposes to pump almost 16.3 billion gallons of water per year from the Carrizo-Wilcox Aquifer underneath Burleson County to northwest San Antonio. Read more here
Waste Water Discharge Threats
The discharge of effluent into streams in the contributing and recharge zones of any aquifer can be a potential source of drinking water contamination. A recharge zone is the area where the aquifer reaches the Earth's surface. Hill Country creeks and rivers exchange water with aquifers in these zones and our fast flowing karst (porous) limestone can be a direct conduit for pollution into the aquifers from which we draw much of our pure drinking water. Most Hill Country ranches and many Hill Country communities and cities rely on the continued purity of the Edwards and Trinity Aquifers. It is critical that we protect our aquifers from harmful contaminants.
The City of Dripping Springs has requested a new permit from the Texas Commission on Environmental Quality (TCEQ) to discharge treated sewage into a tributary of Onion Creek. Currently, the city disposes of its waste water by way of irrigation. Downstream property owners, municipalities, and clean water advocate groups  are concerned by the possible degradation of this pristine Hill Country stream by nutrient rich and contaminant laden treated effluent. Additionally, both of the area's aquifer districts have voiced opposition to the discharge permit citing a recent scientific study illustrating that Onion Creek flows into the Trinity Aquifer just downstream from the city's discharge point – and thus could potentially introduce contaminants into tens of thousands of local residents' drinking water wells. ProtectOurWaterNow.org has the most comprehensive website for documentation related to this requested permit, resolutions, and science.
Here are related news articles from the Hays Free Press, KXAN, News Dispatch, and the Austin American Statesmen.
Southwest Travis County Groundwater Conservation District proposals
Southwest, Northern Travis, and Williamson Counties are the last unprotected areas in the Hill Country.  Various proposals have been tendered to create a GCD for the management and protection of Southwest Travis County's groundwater resources. With stakeholder input, Travis County officials have constructed a list of guiding principles that will act as minimum criteria for the formation of any new GCD in Travis County. Those criteria are consistent with current groundwater law and serve to insure that any GCD formation has the full rights and obligations of other functional GCDs. Read those criteria here.
Hill Country PGMA
In 1990, the bulk of the Hill Country was designated by TCEQ as a "Priority Groundwater Management Area," or PGMA, because the Trinity Aquifer was expected to encounter critical water shortages in the near future. One significant area in this PGMA still does not fall under the jurisdiction of any conservation district: Western Travis County. There is no authority in this area to manage the use of groundwater, it is left to the broad "Rule of Capture." As a matter of best management practice, the endangered Trinity Aquifer should be protected across its entire area.
In 2010, TCEQ recommended the formation of a new GCD to manage the Trinity Aquifer in Hays, Comal, and Southwestern Travis counties jointly. Political forces have prevented this regional GCD from forming. Read the study here.
A similar study was conducted in 2004 for the Trinity and Edwards Aquifers in Williamson, Burnett, Northern Travis Counties. That study concluded that a groundwater management plan for that PGMA was needed but that formation of GCDs in Williamson and Travis Counties was politically unattainable. Read the study here.
Groundwater Rights Legislation
In the first few days of the 2011 Texas legislative session, a bill was filed that could affect groundwater availability and the flow of springs and streams throughout the Hill Country. Learn about SB 332 here. Stay tuned for news from the 2017 Texas Legislature.