The Latest News
Symposium Will Explore Issues Facing Iconic Pedernales River, March 20 in Fredericksburg
The first Texas Water Symposium of 2014 will feature a conversation between Hill Country landowners and water experts about the Pedernales River. As Central Texas grapples with population growth, land fragmentation and changing land uses, understanding the impact of land and water management on the health of our rivers and their associated catchment areas is essential. Find out more.
American Dream and the Economic Myth
Property is a thing. Happiness is an ideal, a story of the future created by the imagination. The American dream, even when it takes material form, is a wish the heart makes in its pursuit of happiness. It is an act of the imagination made vivid by the life and liberty that allow us to pursue it with hope. Read and share one of our timeless favorite pieces by Betty Sue Flowers.
SAWS: Yes to Desal Plant, Maybe to Pipeline
The San Antonio Water System board voted unanimously Tuesday to fund Phase I construction of a brackish water desalination plant in southern Bexar County – the most ambitious water diversification project in the city's history – and enter negotiations with the Vista Ridge Consortium to provide San Antonio with an even greater supply of new water via a privately-owned regional pipeline, a second diversification project of unprecedented scope and cost. Read more from the Rivard Report.
Registration is open for the Annual Kent Butler Summit
Faucets, Toilets, and Automobiles: Balancing Growth and Sustainability in the Barton Springs Aquifer Region. Join us Friday, April 25th for a day of learning at the Lady Bird Wildflower Center. Click here to learn more and register online.
Texas' Most Endangered Places
Nominations are now being accepted for the Preservation Texas, Most Endangered Place list. Some wonderful places in the Hill Country already grace this list including the Spettel Riverside House in Bandera County, The Old Llano County Jail, Hamilton Pool, Scenic Loop-Boerne Stage Corridor and statewide, Texas Dance Halls! The deadline is fast approaching, March 21st, take it upon yourself to nominate an iconic Hill Country treasure. Learn More
'Art and Conservation' to feature landowner-artist partnerships to promote Hill Country conservation
Hill Country-area artists and landowners are invited to join together to promote conservation of the region's natural resources during "Art and Conservation: Our Hidden Treasures," a collaboration between the Cibolo Nature Center & Farm and the Hill Country Council for the Arts. Learn More
Meet TWDB's new Agricultural and Rural Texas Ombudsman
"The ag ombudsman is helping us spread the word to rural communities about the SWIFT and the benefits it will offer to those communities," says TWDB Chairman Carlos Rubinstein. "His effort is a critical part of our SWIFT outreach and our outreach on many other programs." Read More
Learn about Fredericksburg SHINES
Promoting Solar, Electric Vehicle charging stations, Zero Waste, Bicycling, Water Efficiency… Fredericksburg SHINES is striving to make Fredericksburg become the most sustainable community in Texas! Read their most recent newsletter and get involved.
Medina Lake Water Well Meeting March 17
The Medina Lake Preservation Society (MLPS) has invited officials from the Texas Water Development Board (TWDB) and the US Department of Agriculture (USDA) to speak with LakePlex citizens about drought assistance availability for communities and individual well owners. Details
California's Drought: Cheap Water, But No Free Lunch
Droughts are too often viewed as local disasters. The historic drought gripping California, which grows more than 90% of the country's almonds, broccoli, grapes and tomatoes, reminds us that in today's global economy, the economic repercussions of water scarcity ripple far beyond any single state. In California, as in Texas, drought has provoked a conversation on how to invest in more secure water supplies--but for both states, drought is just a preview of water shortages that are likely to persist, and which are driven by the choices we make around water use. In both states, systemic water scarcity requires a serious examination of how we manage water and how we value it. Read more from HCA Board Member, Sharlene Leurig.
Gravel pit proposed near Guadalupe River
Commissioners seemed to agree they don't have much chance of preventing the pit, even though it is in the 100-year floodplain, where land modifications require the county's approval. The county must approve the proposal if the company submits plans to the county indicating the new pit won't cause sedimentation in the river. Read more from Sean Batura at the Kerrville Daily Times.
Hill Country Water: Myths and Truths
Cow Creek Groundwater District Directors Milan J. Michalec and Bob Webster will present a program about Groundwater in the Texas Hill Country on Thursday evening, March 20. This informative program focuses on the many misconceptions people have about our groundwater, the aquifers that contain it, and the laws that regulate it's withdrawal and use. Learn More
San Antonio's Water Future: Who is Running SAWS?
Who is in charge at the San Antonio Water System as major water supply policies are about to be set for the next decade and beyond? The answer, for the moment, is evident only to a handful of senior SAWS executives, board trustees, city officials and business leaders. Read more from the Rivard Report.
Drought Fuels Rising Tide of Texas Water Conservation
San Antonio and Austin are separated by roughly 80 miles and receive an average of about 32 inches of rain each year. They sit just east of the 100th Meridian, which is often considered the divide between east and west where the plentiful rainfall greening the east quickly becomes the arid desert of the interior west. Read more from Climate Central.
Scenic American to host National Conference April 11th in Houston
Speakers will highlight real life examples from around the country where initiatives such as investing in scenic roadways and tree lined parkways, promoting corporate visual responsibility, defining design standards and prohibiting new billboards has created increased market value for real estate, expanded tourism and enhanced neighborhood livability and quality of life. Learn More
The Hill Country Alliance Photo Contest kicks off March 1st
What's your view of Hill Country Stewardship? HCA is seeking photographs that tell the story of our region's stewardship ethic for publication in its 2015 calendar. The Texas Hill Country is a cherished place, yet it is threatened by land fragmentation, over-allocated rivers and aquifers, incompatible land development practices and a lack of understanding about appropriate stewardship. Read More
Councilman Nirenberg asks key questions about San Antonio water and growth
How are the city's current policies affecting water quality and supply? How do the city's growth strategies impact our water security measures? Do these efforts complement or conflict with each other? And most importantly, how are ratepayers impacted? A full transcript of Nirenberg's keynote to the Resilience Conference are posted on the Rivard Report. His must read request to Council related to the Edwards Aquifer and Water Supply Planning can be read here.
Hays County Water Security – At What Price?
Hays County is gambling one million tax payer dollars a year on our water future. Citizens Alliance for Responsible Development (CARD) believes our elected officials need to show the taxpayers of Hays County that this is a sound bet, not wasted tax money that will never hold water. Read more from CARD.
Austin blogger series takes a hard look at water, drought and sprawl
"We look at the climate science that warns that Austin faces serious water supply problems, and at the roles played by transportation planning and suburban sprawl in that crisis…Is the CAMPO 2040 Plan smart planning, or does it more closely resemble a real estate Ponzi scheme?" Read more from Roger Baker.
Latest twist in the Lerin Hills saga near Boerne in Kendall County
"The MUD needs the pipeline to get Canyon Lake water to Lerin Hills, where 1,475 homes — plus businesses, parks and a school — are proposed." Read more from SA Express-News.
Hill Country Land Trust Adds Skilled Board and Committee Members
The Hill Country Land Trust (HCLT), a non-profit land conservation group headquartered in Fredericksburg, Texas, recently welcomed several new board and committee members: Steve Nelle, Jill Nokes, Kassi Sheffer, Floyd Trefny, Mike Krueger and Ernest Smith. The Hill Country Land Trust is delighted and proud to add such prestigious and hard-working individuals to their all-volunteer board. Learn More
Texas Stream Team Paddlers launched at the Meadows Center
The Meadows Center for Water & the Environment at Texas State University is inviting kayakers and canoeists to join the Texas Stream Team, a citizen science program that has been monitoring the quality of Texas waterways since 1991. Learn more about opportunities for students, educators, outdoor enthusiasts to get out on the river and work on one of the most important issues of our time: Water.
Bennett Trust Land Stewardship educational program set April 23-25 in Kerrville
State photographer Wyman Meinzer has been selected as the keynote speaker for the Bennett Trust Land Stewardship educational program, "Protecting the Legacy of the Edwards Plateau," to be hosted by the Texas A&M AgriLife Extension Service April 23-25 in Kerrville. Read More
January Driest in Decades – Severe Drought Continues
The amount of water flowing into the Highland Lakes in January was the lowest for that month since the 1950s. The lower Colorado River basin is in its seventh year of a severe drought, and the Highland Lakes remain near historic low levels...Lakes Travis and Buchanan, the region's major reservoirs, now hold about 762,000 acre-feet, or 38 percent of capacity. Read more from the LCRA.
Farm Bill Update: The Agriculture Act of 2014 and Conservation
With the enactment of the Agriculture Act of 2014, known to most of us as the Farm Bill, landowners have more certainty about the availability of federal funds for conservation on farm and ranch lands. The Farm Bill provides up to $57 billion dollars over the next five years to support a variety of rural land conservation activities, including the dedication of conservation easements, and eliminates some of the complexity of the varied conservation programs. Read more from Braun & Gresham.
Public Invited to Outdoor Adventure Showcase at LBJ State Park
Lyndon B. Johnson State Park and Historic Site presents a day of family fun from 10 a.m. to 4 p.m. on Saturday, Feb. 22, featuring adventure and hands-on experiences for all ages. Representatives from a dozen central Texas state parks and state natural areas will be on hand to showcase the area's rich natural and cultural resources. Learn More
Success Stories of Trails in Texas
The National Park Service, Rivers, Trails and Conservation Assistance Program is working on trail projects throughout Texas including urban trails in Austin and San Antonio and the Llano River Biodiversity trail at Texas Tech University in Junction. Learn More
TWDB solicits public comments
Texas Water Development Board (TWDB) is hosting a discussion about the implementation of historic legislation creating the State Water Implementation Fund for Texas (SWIFT). This discussion is the third of several meetings that TWDB is hosting related to prospective rulemaking for House Bill 4, 83rd Texas Legislature. Learn More
Globe At Night – Get Out and Observe the Night Sky!
The Globe at Night program is an international citizen-science campaign to raise public awareness of the impact of light pollution by inviting citizen-scientists to measure their night sky brightness and submit their observations to a website from a computer or smart phone. This hands-on learning activity is designed for schools, students, communities and families. The more participation we inspire in the Hill Country the better data we'll have for our region. It's easy, learn more at www.globeatnight.org
Water Blues
"How much IS too much?" Is the rate of growth northwest of San Antonio undermining the good efforts of land conservation investment over the aquifer recharge area? These tough questions are explored in the new documentary film project, Water Blues. View clips by location or issue and pass along to others.
Hill Country Land Trust Acquires 685 Acre Easement in Gillespie County
"A wonderful diversity of native plants is found on this property, and many years of excellent wildlife and range management by the owners is evident," says HCLT President, Katherine Peake. "But even more exciting to us is that this property contains habitat of the Golden-cheeked Warbler. We consider this easement one of HCLT's crown jewels." Read More
TWDB solicits public comments
Texas Water Development Board (TWDB) is hosting a discussion about the implementation of historic legislation creating the State Water Implementation Fund for Texas (SWIFT). This discussion is the third of several meetings that TWDB is hosting related to prospective rulemaking for House Bill 4, 83rd Texas Legislature. Learn More
For Central Texas Educators: Groundwater to the Gulf
Every year, water experts from over 13 agencies in Central Texas combine forces to take 50 teachers to the aquatic hotspots in and around Austin. We go caving, canoeing, hiking, and splash in streams--all in the name of science. It is the most fun, free way to earn 22 continuing education credits. Dip your hands into local water topics and try activities that help bring those topics back to your classroom. Visit the Groundwater to the Gulf Registration page for more details including photos from years past, registration link, and sponsor info. Learn More
Dripping Springs Named The First International Dark Sky Community In Texas
The stars at night remain big and bright deep in the heart of the Texas – thanks to the hard work and dedication of Texas Hill Country residents. The International Dark-Sky Association (IDA) announced today it has designated the first International Dark Sky Community in Texas. "Dripping Springs joins a select club as the world's sixth Dark Sky Community," said IDA Ex-ecutive Director Bob Parks. Read More
A Water Primer from our friends at the Texas Wildlife Association (TWA)
"Springs occur where groundwater from saturated aquifers escapes to the surface, usually amid exposed and broken rock along fault lines, such as the 300 mile "spring line" along the Balcones Escarpment in Central Texas... Springs form the headwaters of some of Texas's rivers and streams, and many provide crucial seasonal or year-round flow." Learn more about water in Texas from this recent issue of Texas Wildlife.
Exploring Conservation Design in Central Texas – Rescheduled 5.16.2014
Randall Arendt will be back in Austin May 16 for this full day of Conservation Development education. The program also features a low impact development presentation by Karen Bishop of the San Antonio River Authority and a panel discussion with city planners, land developers, and landscape architects to discuss key opportunities and challenges to implementing conservation design in Central Texas. Learn More
Multi-county new landowner series to address all phases of agricultural production
The Texas A&M AgriLife Extension Service is accepting applications for its 2014 New Land Owners Series (NLOS), which will take place in Blanco, Kendall, Kerr and Gillespie Counties in Texas Hill Country. Participants in the program will hear from Extension experts in various fields about best management practices they can implement on their own property. The series will consist of 6 program meetings, beginning March 21. Learn More
Kudos to SAWS, but Day case is the real problem, not GCDs
"Kudos are due to SAWS President and CEO Robert Puente for choosing a closer-to-home strategy that, along with continued efficiency improvements, will help the City meet its water needs far into the future. Here is hoping that the SAWS board and the Mayor give full support to this sensible approach. But, in the press release announcing the decision, SAWS expressed concern about the role of groundwater districts…" Read more from Mary Kelly, Texas Center for Policy Studies. Hill Country GCD's need to protect spring flow.
Water Woes Common,But is That Any Comfort?
"…mine are not views of water issues as seen through a politician's, chambers of commerce' or developers' rose colored glasses. Water is too critical and too big an issue to play games with in giving the citizens the facts." Read more from the Hill Country's Mike Mecke, published in Ranch and Rural Living Magazine.
Who Controls Texas' 2 Billion Water Fund?
"The chairmanship is a posting that could easily tumble into cynicism, to the knowing feeling that despite legislative assurances that portions of the water money will be used for the sort of conservation project that Delia, the 9-year-old girl, favors, most of it will benefit the engineering, real estate and lobbying firms that have the most to gain from massive water projects." Read the full story in the Austin American Statesman.
Severe Drought Has U.S. West Fearing Worst
Pay attention to what's happening in California - "17 rural communities providing water to 40,000 people are in danger of running out within 60 to 120 days. 'I have experienced a really long career in this area, and my worry meter has never been this high,' said Tim Quinn, executive director of the Association of California Water Agencies." Read more from the NY Times here.
Families Learn Life Changing Values at Cibolo Nature Center Farm
"This place – along with other sanctuaries for nature and people – gives me hope that we can live in harmony with our surroundings, if we work together to learn about our history and the wonders of the natural world, and embrace the communities in which we live." Read Cheyenne Johnson's story recently published in the Rivard Report here.
House Approves Farm Bill
In a striking show of bi-partisanship, the House of Representatives overwhelmingly voted to support the 2014 Farm Bill. The final vote was 251 - 166. The legislation will generate more than one billion dollars for saving endangered farm and ranch lands. The bill is expected to be approved by the Senate and signed by the President shortly. More from Land Trust Alliance.
Bandera County Water Awareness Event – March 21 - 22
Bandera County Water Awareness Series will hold it's first event March 21-22 at the Mansfield Park Recreational Hall. The free workshop is open to anyone interested in water related issues in the Bandera region. Learn More
Rio Grande Water Users Fear Groundwater Pumping Project
A controversial groundwater pumping plan that opponents argue could threaten the lower Rio Grande's already depleted supply is highlighting a conundrum in Texas water law. Texas rivers and springs are considered the property of the state, while water flowing below ground belongs to individual landowners. But many of the state's surface water resources, from Barton Springs to the Guadalupe, Colorado and Brazos rivers, are fed in large part by groundwater. Read the full story from the Texas Tribune.
New Braunfels river rules deemed unenforceable
For six years, New Braunfels has tried to keep rowdy tubers from tossing trash into its rivers with a series of ordinances barring them from floating through town with coolers larger than 16 quarts or from carrying disposable bottles and cans. Now, a judge has sunk the effort, the latest blow to the city's attempts to regulate water recreation that can draw tens of thousands of tourists to the Comal and Guadalupe rivers on any busy summer weekend. More from SA Express-News. "Support the Ban" activists are urging an appeal; Learn how to be involved here.
Farm Transfer Tools: Promoting Sustainable Practices
"Many landowners, whether retiring from a lifelong career of farming or inheriting land from parents who farmed, want to leave a legacy of conservation and sustainable agriculture. As a landowner, you may be looking for ways to pass on the farm to a farmer and/or new owner who shares this vision. For retiring farmers and off-farm landowners alike, there are many ways to do this, depending on the value and priorities of the particular landowner." An excellent resource from NCAT.
Hays County rainwater fund proposed
On January 21st the Hays County Commissioners Court discussed creation of a Hays County Rainwater Initiative Fund, the Hays "RAIN" Fund. The proposal authored by Commissioner Ray Whisenant would create a revolving loan fund that would be available to Hays County citizens for installation of systems to collect, store and use rainwater that would result in a reduction in the use of groundwater. Learn More
Groundwater Desalination: An Under-Projected Source of Supply?
The challenges and opportunities in brackish groundwater desalination as a source of future water supply in Texas have been receiving considerable attention lately. With a Joint Interim Committee on Desalination, Senate Natural Resources Committee interim charges that include desalination, and a new Texas Desalination Association, this area will continue to be a hot topic. Read more from the Texas Center for Policy Studies blog.
Texas Water Report: Going Deeper for the Solution
The State Comptroller's Office released "Texas Water Report: Going Deeper for the Solution" earlier this month. The report demonstrates the value of conservation investments and innovation in water research and technology. A website was also launched to compliment the report and provide ongoing education about water use- some great thoughts here worth reading: http://www.txwaterreport.org.
Under the surface - The legislature was looking in the wrong place when it tried to solve the state's water crisis
"Local conservation districts, democratic institutions that allow regional interests to control their own fate, should be permitted to continue their work. But they must be empowered by the Legislature to do their jobs properly, which will never happen as long as private property rights are allowed to trump all other considerations." Read the full story from Texas Monthly.
Chemical Spill in West Virginia shows the vulnerability of our water supplies
The disastrous chemical spill that contaminated West Virginia's water supply reinforced the value of harvesting rainwater to provide distributed sources of safe water. Read More
Dealing with Drought
In this exclusive premiere of the Edwards Aquifer Authority (EAA) mini-documentary "Dealing with Drought," diverse Edwards Aquifer permit holders share their stories of resilience and conservation practices. More from the Rivard Report.
Energy demonstration project now underway at TTU-Junction
Last fall the Llano River Field Station (the Station) at the Texas Tech University (TTU) Center in Junction received a grant for $230,000 from the Office of the Texas Comptroller for an alternative energy demonstration project. The renewable energy devices have been installed and are now generating electricity for two buildings on the Junction campus. Learn More
Water, Local Control Issues Paramount in HD-53 Race
The bulk of the western Texas Hill Country lies in House District 53, Representative Harvey Hilderbran's seat since 1992. Three candidates are running in the Republican Primary. "Murr acknowledged the diversity of the region: "Different growing regions, different sources of income and use of the land, but overall the perspective, the composition, the people remain the same. They're conservative and independent-minded." Read the Texas Tribune story here.
San Antonio Seeks Ownership of Its Wastewater
A bid by San Antonio's water utility to declare ownership of the sewage it treats and releases has sparked a regional tug-of-war — one that could become more common as Texas' thirsty water users struggle to protect their supplies. Read more from the Texas Tribune.
San Antonio named a "Promise Zone"
Five U.S. communities have been designated "Promise Zones" by HUD and USDA including San Antonio's east side. These communities will benefit from a comprehensive approach to development that will enhance and connect local assets ranging from schools to housing to jobs. Learn More
Zero Net Water
Imagine a water management strategy that would accommodate growth and development without unsustainably pumping down aquifers or incurring the huge expense and societal disruption to build reservoirs or transport water from remote supplies to developing areas. Welcome to the concept of Zero Net Water. Read more from waterblogue.com.
The Edward Aquifer HCP is one of four conservation partnerships honored by the Interior Secretary
The Edwards Aquifer Recovery Implementation Program (EARIP) is one of four organizations to receive the Department of Interior's Partner in Conservation Award. EARIP's Habitat Conservation Plan, approved in 2013, was created to ensure that the Comal and San Marcos springs will continue to flow and that species such as the fountain darter and Texas blind salamander will survive even if Texas experiences yet another significant drought. Learn More
Cibolo Nature Center & Farm to offer five-part sustainable landscape program
Sustainable residential landscapes can have a positive impact on the environmental health and human well-being of an entire region, promoting clean air and water, fertile soils and other essential aspects of daily life. To help homeowners create and maintain landscapes that are both beautiful and sustainable, the Cibolo Nature Center & Farm will offer a five-part workshop on Landscape for Life from 10 a.m. to noon on Tuesdays from Feb. 18 through March 18. Find out more.
The United (Watershed) States of America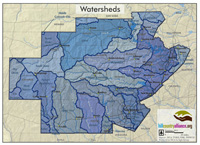 A Hill Country governed by Watersheds? This interesting blog takes a look at John Wesley Powell's 1879 proposal: What if western states were brought into the union formed around watersheds, rather than arbitrary political boundaries? This idea rested on the observation that because of an arid climate, a statewide organization decided by any other factor would lead to water conflict down the road...hmmm.
Read More
Devils River faces threats from groundwater pumping and export
Many eyes are on SAWS in the weeks ahead as decisions are made about regional water supply, i.e. bringing in water from outside of Bexar County. One of the three proposals being considered is from a water marketer seeking to pump and pipe 150,000 acre-feet of water per year from the Edwards-Trinity Aquifer in Val Verde county to San Antonio, San Angelo and other western cities. The Devils River Conservancy and numerous others have sprung into action in opposition to water export in the region that could have serious consequences to inflows of the Devils River, Amistad Reservoir and the Rio Grande below. Get facts here. Read HCA comments to SAWS and the City of San Antonio here. "Opposition Grows to Val Verde Water Plan." Read more from SA Express-News here.
Wimberley Citizens and HEB seek common ground
Important commitments for rainwater harvesting, night sky lighting, drainage and other considerations, make this new HEB in one of the Hill Country's most charming communities more tolerable. City Council meets Thursday, January 16th, learn more from Hays County's Citizens Alliance for Responsible Development here.
Rainfall and Recharge Reality for the Laurels Ranch, Kendall County
"Groundwater resources are not only reflective of water levels in wells, but also of the health of seeps, springs, creeks, and rivers. As of today, many, if not most, of these resources in the Texas Hill Country are in pitiful condition, if not completely dry." Read the details from David K. Langford.
Developer decides not to purchase land near Bracken Cave
All of the advocacy outreach opposing the Crescent Hills project adjacent to Bracken Bat Cave has paid off, Stratford Land officially declined to purchase the property. "Meanwhile, a coalition of conservation groups and local officials worried about the impact of development on the bats and the land remains interested in buying the 1,545-acre parcel and still is trying to raise money." Read more from the San Antonio Express here. GEAA is helping rally support for this conservation opportunity, read GEAA's recent outreach communication here and find out how you can help.
Bennett endowment to provide ongoing AgriLife Extension land stewardship programming
"We are excited about helping landowners protect their piece of Texas. In doing so, we believe other parts of the state will also benefit." The first educational efforts to be made through the Bennett endowment will be the "Protecting the Legacy of the Edwards Plateau" conference, April 23-25 in Kerrville. Learn More
2030 District Points San Antonio Towards Sustainability
It's full steam ahead for San Antonio 2030 District organizers after January 10th's successful district launch party. Architecture 2030 is a nonprofit that challenges cities to reduce greenhouse gas (GHG) emissions from building operations via energy-saving design and planning tactics. Read the full story from the Rivard Report.
The Hill Country Land Trust Welcomes Its First Executive Director
The Hill Country Land Trust (HCLT), a non-profit land conservation group headquartered in Fredericksburg, Texas, announced recently that Martha Zeiher has been named its first executive director, effective January 1, 2014. Learn More
Regional Premier of WATERSHED: Exploring a New Water Ethic for the New West, January 15
Enjoy the regional premier of the movie WATERSHED, to be followed by a panel discussion featuring international water policy experts. The evening will feature discussion of drought and water policy in Texas and around the world. Sponsored by the Paramount Theatre and the Cynthia and George Mitchell Foundation. Learn more and purchase tickets here.
Cibolo Nature Center & Farm to present three-part seminar for wildlife tax valuation
Landowners who have an agricultural tax valuation on their property and are interested in managing their land for wildlife are invited to attend a three-part seminar, beginning January 11, to prepare a management plan and application for a wildlife management tax valuation from the State of Texas, sponsored by the Cibolo Nature Center & Farm. Learn More
Saving Rural Roads: One-Man Mission Turns to Island-wide Effort
Think of our scenic Hill Country roads as you read this story of rural character preservation from Martha's Vineyard, Vineyard Gazette.
Forget Golf Courses: Subdivisions Draw Residents With Farms
When you picture a housing development in the suburbs, you might imagine golf courses, swimming pools, rows of identical houses. But now, there's a new model springing up across the country that taps into the local food movement: Farms — complete with livestock, vegetables and fruit trees — are serving as the latest suburban amenity. Read more from NPR.
The Examiner speaks of direct discharge as a Hill Country "Land Heist."
"Terrell Graham and his wife's family have owned their ranch in the Texas Hill Country for over 100 years. It's remained a working farm and cattle ranch, and now Texas state government is stealing their land so private developers can discharge treated sewage from 1,500 new homes into the Lux family's dry creek bed." Link to this alarming article by Terry Hall here. Direct discharge permits are an issue of concern for water quality in the Hill Country. The Belterra permit in Hays County was legally challenged and ultimately revised for the better. Highland Lakes residents beat a discharge permit in 2009. And currently The City of Dripping Springs in Hays County is preparing to file for a direct discharge permit into Onion Creek. More on this issue on our Water Quality page.
Texas Water Star Program workshop for urban water users set for Feb. 14
The Texas A&M AgriLife Extension Service's Texas Water Star Program will hold an Earth-Kind landscaping workshop Feb. 14, 2014, at the San Antonio Botanical Garden. "The Earth-Kind techniques that will be covered are research-proven and are designed to provide maximum garden and landscape enjoyment while showing how to preserve and protect the environment." Learn More
Much At Stake as LCRA Chooses a New Leader
To understand the level of crisis facing the Lower Colorado River Authority, look no further than the three-page job description the agency has drafted in its search for a new general manager. Read more from Texas Tribune.
Winter Trout Fishing Coming to the Beautiful Llano River
Texas Parks and Wildlife Department (TPWD) Inland Fisheries will be stocking 2,400 rainbow trout into the Llano River near Castell, Texas, on December 18, 2013. This site is a recent addition to the popular winter trout program which provides Texans a unique fishing opportunity during the winter months. Read more from TPWD.
Troubled Waters: The State of Texas Rivers
The Texas Tribune examines Texas' major rivers, all of them threatened by drought, climate change and rapid population growth. Link to the full series and interactive map here. Or, link directly to the story related to a specific Hill Country basin; Colorado, Devils, Guadalupe, San Saba. This valuable series will continue so stay tuned for more revealing reporting from the Texas Tribune.
2014 Kent S. Butler Memorial Groundwater Stewardship Scholarship Essay Contest
The Barton Springs/Edwards Aquifer Conservation District (BSEACD) is now soliciting applications and essays for the 2014 Kent S. Butler Memorial Groundwater Stewardship Scholarship Essay Contest through Tuesday, March 18, 2014. The essay contest is open to high school juniors, seniors, and immediate graduates who reside in the Austin, Eanes, Dripping Springs, Hays Consolidated, Del Valle, and Lockhart school districts. Learn More
West Travis Utility reinstates LCRA development agreement
Neighbors are keeping a watchful eye to make sure the agreement LCRA made as they began expanding waterlines along 290 and then along Hamilton Pool Road stays put. Read the story in Impact News here. Read the full MOU in question here. More insight can be found at www.HPRMatters.com.
Christmas tree lighting set Sunday at LBJ State Park
A Hill Country Christmas tradition started by President Lyndon B. Johnson (LBJ) and his family more than four decades ago will continue this Sunday, Dec. 15, in Stonewall. Johnson's descendants are expected to join with visitors for the 44th Annual LBJ Christmas Tree Lighting and Evening Tours at the LBJ State Park and Historic Site, off U.S. Highway 290. Details
Government Canyon State Natural Area to offer Special Holiday Site Openings, Camping Opportunities
Government Canyon State Natural Area in west Bexar County, which is typically only open to the public Fridays through Mondays, will be open daily from Dec. 20 through Jan. 6 throughout the upcoming holiday season. Additional camping nights during the Christmas holidays will be offered. Learn More
Texas Land Conservation Conference Set for Feb 26-28, 2014
Topics include conservation easement negotiation and amendment, bridge financing and other conservation funding issues, Texas water policy, legal issues, endangered species, conservation easement appraisals, conservation on agricultural lands, public-private partnerships for conservation, and much more. Learn More
Sports field lighting doesn't have to light the night sky
"The lighting systems are visible for miles around and produce a substantial amount of sky glow and light pollution... It is essentially impossible to mitigate the impact these types of facilities have on the surrounding areas." This is a significant issue in the Hill Country but it is one that is fairly easy to correct with some cooperation and good neighbor lighting. Learn about Recommended Practice (RP) from the International Dark Sky Association.
Planning for growth centers reduces the cost of infrastructure
Our region is not focused as it once was on Envision Central Texas, a program that was admired nationally for its collaborative nature and "growth centers" concept. Other regions are moving in this direction. Utah for example, is launching a program with a similar focus, "centers would allow people to live, work and play in the same area, and drive less and walk or bike more. It would save billions in roads that would not need to be built, conserve water, reduce air pollution, preserve open space and cut traffic congestion." Read more from the Salt Lake City Tribune.
Why prairies matter and lawns don't
As native landscapes disappear, wildlife disappears, and important ecological processes that insure outcomes such as clean drinking water, climate change buffers, and flood control also disappear. Read more from Healthylandandethic.com.
Here's What Climate Change and Urban Sprawl Look Like in Texas
The climate is changing, and Texas is growing. For a bird's eye view of these developments, NASA has put together a 'State of Flux' image gallery that shows how climate change, urbanization, and natural disasters have changed certain geographic features in Texas, and across the world. The gallery puts two satellite images side-by-side to show the changes. Read more from State Impact Texas.
A new path forward for TWDB
On Sept. 1, 2013, the Texas Water Development Board (TWDB) began serving the citizens of Texas under a new management structure with three full-time Board members. Between that time and the successful passage of Proposition 6 on Nov. 5, both the new Board members and agency staff have been hard at work preparing to implement the State Water Implementation Fund for Texas and to respond to other new legislation. Read More
Hot Seat: A Conversation With Campbell and Isaac
Tune in as Evan Smith from the Texas Tribune hosts a conversation with two Hill Country legislators, Senator Donna Campbell and Representative Jason Isaac. Learn More
Austin leads Texas cities in shift away from vehicle use
Mirroring trends seen elsewhere in the nation, Texans living in urban areas are driving less, according to a report from think tank TexPIRG. The report's authors say the decreased driving trend means that policymakers should be shifting infrastructure funding priorities away from road projects and into alternative modes of transportation. Read full article from Austin Business Journal.
Where did all the stars go?
Big Bend National Park is one of the darkest place in the U.S. but the Hill Country is quickly losing the night, "...much outdoor lighting used at night is wildly inefficient, overly bright, poorly targeted, improperly shielded, and, in many cases, completely unnecessary." Read this story published in the December issue of Men's Journal featuring HCA Night Sky Team member and frequent guest speaker Bill Wren of the McDonald Observatory.
Financing A Sustainable Water Plan for Texas: Part 3
In a series of three guest blogs, Sharlene Leurig, Water Program Director for Ceres, examines the details of Proposition 6, the water project financing measure approved by Texas voters on November 5th. Proposition 6 amends the Texas constitution to appropriate $2 billion from the state's Rainy Day Fund to seed a new water infrastructure loan fund directed to water supply projects included in the State Water Plan. Click here to read.
Is the Drought Over Yet?
Across the Hill Country, other aquifers, which provide vital spring water for many rivers, are very low and many of their springs and seeps have dried up. These aquifer-fed springs are not only key to local ranchers, but to maintaining river flows in the upper Nueces, Guadalupe and Colorado river basins. Read full article by Mike Mecke in Ranch and Rural Living Magazine.
For Groundwater, Political Boundaries Trump Natural Ones
Second in five part series by Texas Tribune: "Like any natural resource, the precious groundwater that flows under Texas' land does not follow political boundaries. The state is home to nine major and 21 minor aquifers, some of which stretch across the entire state and have segments with wildly different hydrologic properties. Yet at a time when thirsty cities and industries are clamoring for groundwater more than ever, the resource is regulated by nearly 100 entities drawn along political boundaries such as county lines, in part because groundwater is considered a private property right in Texas." Read more from Texas Tribune.
New Cow Creek District 1 Director named to replace Kight
Bob Webster, a staunch advocate of the Cow Creek Groundwater Conservation District tapped to fill vacancy on Board of Directors. Webster, the "public" at nearly all of the GCD meetings, is the host of The Garden Show on KTSA AM 550 San Antonio and serves as an advisory board member of the Hill Country Alliance. Learn more from the Boerne Star.
Partnerships Revitalize Fishing at Inks Lake, a Hill Country Gem
Texas Parks and Wildlife Department (TPWD) Inland Fisheries and State Parks divisions have partnered with other private groups to develop habitat enhancement projects to improve fishing opportunities at Inks Lake the past three years. More from TPWD.
The Future of Texas State Parks? It's All About the Money
Texas Parks and Wildlife is the only state agency with a dedicated sales tax. Under state law, a portion of the sales tax on sporting goods is meant to go for parks. But lawmakers consistently divert some of that money to balance the state budget. Read more from StateImpact.
Town's mayor promises fight on water line to S.A.
The mayor of Del Rio told San Antonio Water System trustees Monday that his city would use every legal means to block a proposed plan to pipe billions of gallons of water from Southwest Texas to San Antonio. The proposal, made by the V.V. Water Co., would send enough water for more than 150,000 households per year from drought-weary Val Verde County to SAWS by 2018. Red more from SA Express-News.
LCRA Votes to Cut Off Rice Farmers for a Third Year
The mood was grim among folks from Bay City, Eagle Lake and other coastal communities today as the Lower Colorado River Authority board voted 8-7 in favor of an emergency proposal that will likely cut off water to rice farmers for the third year in a row. Read the full article from the Texas Observer. View Sierra Club's comments and press statement for the November 19 LCRA meeting.
Texans Look Beneath the Surface for Water
Unlike surface water, which is owned and allocated by the state, groundwater belongs to the landowner and is regulated by nearly 100 different conservation districts across Texas, all of which set their own rules. The recent drought, along with major court decisions, has led to what some say is the most uncertain time in state history for those who depend on and manage groundwater in Texas. Read the first of this five-part series from the Texas Tribune.
Sierra Club Releases Updated Report on Desalination
The Sierra Club's Lone Star Chapter recently released an updated version of its popular report on desalination of seawater and brackish groundwater and surface water. Desalination: Is It Worth Its Salt? is a basic primer on desalination written for the general public. The report explores the environmental, energy, and economic issues surrounding desalination and provides an overview of desalination activities in Texas. Read More
Keeper of the Dome
Now leading one of Texas Parks and Wildlife Department's top five most-visited parks, Doug Cochran sees challenges and opportunities in managing Enchanted Rock State Natural Area's 1,600-plus acres, which includes the iconic, 640-acre granite dome outcropping. Read the full article from the Fredericksburg Standard.
Understanding Texas Water Planning can be a challenge
With groundwater and surface water treated as two independent water supplies under Texas law, it can be tricky to plan for our future generations. Citizen involvement is essential to achieving fair policy to sustain our water supply, a shared resource. A great place to learn is the Texas Living Waters Project - Tune in.
Quality Control Steel talks rainwater harvesting and donates tank to local school
Attendees of the American Rainwater Catchment Systems Association's annual conference gathered at Austin School for the Blind and Visually Impaired for a rainwater harvesting tour and discussion. The tour was hosted by Quality Control Steel who donated a 3000 gallon rainwater harvesting tank to the school. Learn More
Another 1600 homes proposed along Hamilton Pool Road
The case for County Authority is made once again on the edge of Austin and Bee Cave. With little county power to deal with intensity and location of development, planning can be left to the utility. More than a hundred residents showed up at City Hall to express concerns about water, traffic and quality of life issues. Learn More
National Association of Realtors survey says smart growth communities are preferred
Americans favor walkable, mixed-use neighborhoods, with 56 percent of respondents preferring smart growth neighborhoods over neighborhoods that require more driving between home, work and recreation. Read More
With Prop 6 Funded, Water Plans Remain Uncertain
Perhaps the biggest elephant in the room when it comes to the state water plan is groundwater regulation. Almost every region in Texas plans to look below the surface for more water supplies. But many water suppliers, including those that serve Austin and San Antonio, are battling for the right to pump groundwater outside their own jurisdiction. Read more from the Texas Tribune.
Texas Water Journal Forum: Water, Politics & Drought
The Texas Water Journal, an online, peer-reviewed journal about Texas water issues, will present the inaugural Texas Water Journal Forum, "Water, Politics and Drought," Nov. 21 in Austin. Learn More
Guadalupe included in report about rivers threatened by water supply projects
Environmental leaders call on water board to focus Prop 6 money on conservation and avoid projects harmful to rivers. "The State of Texas has consistently declined to implement common sense approaches to to maintain in-stream flows to the bays and estuaries - to the point where coastal ecosystems are now in peril," said Annalisa Peace, Executive Director of the Greater Edwards Aquifer Alliance." Read the story from Environment Texas.
Why a million gallons of water? Rollingwood well could affect locals
As water becomes scarcer in Central Texas and the thirst for it is on the rise, property owners in Rollingwood are requesting permission to drill a well and pump 913,400 gallons of water per year for their home. More from Hays Free Press.
Sustainability focus of Rainwater Revival
"We're dealing with so many water challenges in the state, particularly here in the Hill Country. There are a lot of unknowns like how to solve the complex water problems and rainwater harvesting is just a simple thing people can be doing to take the stress off of our aquifers." Read the full Boerne Star article.
In Drought, Abbott Keeps Lawn Green by Drilling
With what has been described as the worst drought in recorded history punishing parts of Texas, Attorney General Greg Abbott found a way to keep watering his yard without risking fines or incurring huge monthly bills: He drilled his own well. Austin has no power to stop landowners from drilling water underneath their own terrain in pro-property-rights Texas. It can only monitor the proliferation of private wells, which Jason Hill, an Austin Water Utility spokesman, said officials are doing "vigorously." More from the Texas Tribune
18-acre ballpark in Hill Country has neighbors upset
Henly is not so much a town as a collection of farmers and ranchers along U.S. 290 between Dripping Springs and Johnson City. Community life revolves around volunteer fire department barbecues and services at the Henly Baptist Church. The unincorporated town, which has more livestock than people, doesn't have so much as a traffic light or a gas station. More from Statesman.com.
Proposition 6 Passes – What is Next
Texas Green Network is hosting an event in Austin, November 21st to examine next steps related to Prop 6. What does this mean for conservation? How do these funds get prioritized? How does this affect the business community? Details
Texas voters approve $172 million in parks and recreation
"Parks and recreation won big on the ballot this week," said Environment Texas Director Luke Metzger. "At a time when many parks are suffering and natural areas are quickly being eaten up by sprawl, millions of Texans put their money where their mouth is and made a big investment in green spaces, water quality, ball fields, bike trails and in our overall quality of life." Read the full story.
Scenic Texas Announces New Appointments to Board of Directors
Scenic Texas announces the appointment of three new Hill Country board members. The new appointments are Kathleen Krueger, Former Mayor Pro-Tem, New Braunfels; Paul Robert Goebel, Associate Dean at Texas Tech University, Lubbock; and Chris Cornwell, former PepsiCo Food Scientist, Canyon Lake. Learn More
How Prop 6 Passed, and What's Up Next for Water Projects in Texas
Texans overwhelmingly passed a constitutional amendment Tuesday to jump-start financing for water projects in the state: Proposition 6. The plan will take $2 billion in surplus state money (from the Rainy Day Fund) to start a low-interest loan program for water projects in Texas. The measure had widespread support from both sides of the aisle as well as business and environmental groups. It passed with over 73 percent of the vote. More from State Impact.
Rain Barrels: Living with Drought, Rain or Shine
It might have been a clear, crisp fall day in Boerne, but inside the Boerne Civic Center it was raining a solid schedule of rainwater harvesting information at the 4th annual Rainwater Revival. This Hill Country Alliance (HCA) event brought together a full day's schedule of rainwater experts and professionals to teach and demonstrate a sure way to end all your water woes. Read the full story in the Rivard Report.
CAMPO encourages more community involvement
The new CAMPO website features a pretty bluebonnet-lined Hill Country road on the cover, what are we doing to protect this vision? A new video featuring CAMPO leaders kicks off a new public input vehicle - Mind Mixer. What's important to you as we grow this region? Quality of life, clean water, natural resource protection, open spaces, rail and bike options? Let CAMPO know.
Let's Talk About Turf
The choice for cities facing water shortages now or in the future is clear: invest in expensive new water supplies or invest in programs to reduce water use, including outdoor water use. Several smart Texas cities chose the latter. San Antonio Water System provides rebates to customers who agree to reduce their turf grass and to replace it with plants from an approved drought-tolerant plant list. More from texaslivingwaters.org.
Thinking about a Conservation Easement?
Now is the time because current enhanced tax incentives expire Dec 31. Rules regarding amount of the deduction and the number of years you can take the deduction are about to change. Contact your local land trust for more information. Learn about conservation easements and land trusts working in the Hill Country here.