SB 332: Relating to the vested ownership interest in groundwater beneath the surface and the right to produce that groundwater.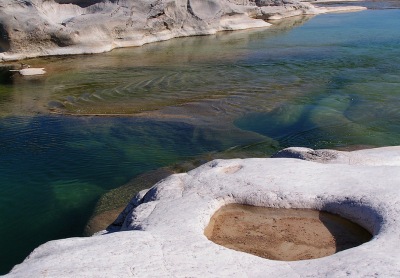 In the first few days of the 2011 Texas legislative session, a bill was filed that could affect groundwater availability and the flow of springs and streams throughout the Hill Country.
After much debate an amended version of SB 332 passed the house late in the evening during the final days of the legislative session. An analysis of this controversial legislation including who supports it, who opposes it and what concerns remain can be read here. The bottom line is that precious groundwater resources, below the land are being recognized by the state of Texas as the landowners "real property".
Senate Bill (SB) 332 addresses the significant issue of groundwater rights and groundwater regulation. This is not a simple issue; we all need to look carefully and consider what's best for rural landowners who become vulnerable when significant water resources are sold and shipped elsewhere. We need to consider what's best for our region, a unique place blessed with flowing springs and creeks that are often dependent on aquifers, and a region which is experiencing a very high rate of growth in a fragile rural landscape.
The property right individual landowners have to groundwater has a long legal history in Texas and is intimately tied to our state water planning processes and regulatory structure. Because these issues are complicated and nuanced, any change in statutory language could have significant effects on groundwater use, regulation and planning throughout the Hill Country and the rest of Texas. These issues can also be very controversial, especially in a region that relies so heavily on groundwater. Because of the uncertain legal consequences of this proposed legislation, we urge our leadership to be very cautious.
HCA has gathered ideas and resources to help Hill Country citizens understand groundwater rights and SB 332. Click here to read HCA's issue paper regarding the current regulatory environment and the changes SB 332, as introduced, would make. For more information about groundwater resources in the Hill Country click here.
---
Resources
Texas Wildlife Association Testimony on SB 332 and SB667 - Joesph Fitzsimons testimony on SB 332 before the Senate Natural Resource Committee.
The Fallacy of Vested Groundwater Ownership - Bringing science to the SB332 debate, by hydrologists Rene Barker and Raymond Slade, Jr.
Groundwater Call to Action - A GWPC report
Barton Springs Edwards Aquifer Conservation District - Testimony given March 1, 2011
Coastal Bend GCD Testimony - given March 1, 2011
Rice Producers handout - Reason's to oppose SB 332
SB 332 bill text
Groundwater Ownership - Issue paper developed by a coalition of organizations pushing SB 332
Ground Water Legislation in the 82nd Texas Legislature - National Wildlife Federation and Sierra Club Groundwater position paper
Who owns the Water, A primer on Texas groundwater law and spring flow - An excellent overview written by Ronald Kaiser and published in Texas the State of Springs in 2005
Landowners' Rights in Texas Groundwater: How and Why Texas Courts Should Determine Landowners Do Not Own Groundwater in Place - Baylor Law Review article by Susana Elena Canseco
Texas Groundwater Issues: Ownership Rights and Regulation 2010 - The perspective of the primary groups advocating for SB 332; Texas Wildlife Association, Texas and Southwestern Cattle Raisers Association and the Texas Farm Bureau
Texas Alliance of Groundwater Districts position paper for the 82nd Legislature
Environmental Defense Blog, "The Legislature Plunges into the Groundwater Ownership Fray"
South Llano Watershed Alliance - An informational resource on groundwater.
Resolutions opposing SB 332:
Pecan Valley Groundwater Conservation District
Barton Springs Edwards Aquifer Conservation District
Region K Resolution on Groundwater Management
Coastal Bend Groundwater Conservation District
Resolution of the Texas Rice Producers Legislative Group - Resolution regarding vested groundwater ownership and sutainable groundwater management.
---
News
March 19, 2012
High Court Rules That Landowner Rights Also Include Groundwater
"The purpose of a district, in my opinion, is to prevent harm that the rule of capture would allow and to try to the best of their ability to create sustainable aquifer production. The goal as much as possible should be one of sustainability." Read more from Livestock Weekly.
Texas Farmers Battle Ogallala Pumping Limits
"Texas is virtually the only state that functions by the "rule of capture," which allows landowners to pump essentially unlimited amounts of water. Elsewhere in the U.S., groundwater is a public resource, and the state allows people to use the resource." Read more from Texas Tribune.
March 5, 2012
Taking a Deeper Look at the Texas Supreme Court's Ruling on Water
Exactly how (the decision) will change the game is what everyone is trying to figure out. The case clearly established two things. First, that landowners legally own the groundwater underneath their land, and second, that landowners may be owed compensation if state or local regulations go too far in limiting the amount of groundwater landowners can pull. Beyond that things start to get a little murky. Read more from NPR.
February 28 2012
Groundwater ruling potentially unleashes geyser of future cases
Prompted by the severity of the current drought, Texans have been earnestly discussing how to manage the state's water resources for the next several decades to meet the needs of a growing population and dynamic economy. This necessary discussion must now consider last week's ruling on property rights and groundwater by the Texas Supreme Court and how it potentially threatens efforts to regulate and conserve aquifers. The court unanimously ruled Friday that property owners own the water beneath their land just as surely as they own the oil and gas. Read more from Statesman.com.
February 24, 2012
Texas Supreme Court Rules For Landowners in Water Case
In a case with potentially vast implications for groundwater rules in Texas, the Texas Supreme Court has unanimously ruled in favor of two farmers in the San Antonio area who challenged the local aquifer authority's sharp restrictions on their use of a water well on their land. Read more from Texas Tribune. More on groundwater planning here.
June 10, 2011
Water Policy in Texas Legislature Rode on One Word
With the Big Dry upon us, the longstanding fight over the water percolating under the surface in nine major and 20 minor underground aquifers was bound to get contentious before the end of the 82nd legislative session. And it did, at least for a while, because of a single word. Read full Texas Tribune article here.
May 27, 2011
Groundwater Rights bill is on its way to the Governor
The Texas Senate concurred with the House version of SB 332, a best attempt to balance what started out known as the "vested rights" legislation. Many fear the bill will generate more lawsuits and financial strain for Groundwater Conservation Districts. Time will tell. "Texas needs to come to grips with the need to manage our groundwater resources on a sustainable basis for future generations. Ultimately a landowner can't build a fence around a natural resource such as groundwater. It's a shared resource even if a landowner has certain rights to the use of that resource" Ken Kramer, Lone Star Chapter, Sierra Club, statement here. More on this issue here.
May 24, 2011
Groundwater Bill on its way
The groundwater bill is closer to becoming a law. The Texas House passed SB 332, which states that a property owner also owns the groundwater beneath their land. Read KUT news report here. Read an analysis of the legislation including who supports it, who opposes it and what concerns remain here.
Harris: Don't let legislators set back hard-won groundwater conservation efforts
Texas is suffering from a drought that is throwing our groundwater conservation districts and landowners into crisis. Legislature is poised to pass CSSB 332, which could cripple our groundwater conservation districts' ability to conserve water, preserve and protect the hydrological cycle and come to grips with Texas' recurrent drought conditions. Read more from Statesman.com here.
The Great Groundwater Grab
Texas is suffering from a drought that is throwing our groundwater conservation districts and landowners into crisis. Sadly, our legislature is poised to pass a bill known as CSSB 332 that could cripple or even destroy the groundwater management system previously put into place. Read more
April 6, 2011
Controversy swirls around water bill at hearing
A controversial groundwater bill before state representatives late Tuesday either promised the calamitous end of groundwater regulation or simply stated the obvious. Read full Lubbock Online article here.
Texas Lawmakers Discuss Controversial Groundwater Bill
"Water is a finite resource. It is the most precious resource that this state is charged with conserving," said Ritter, the committee chairman, as he introduced the bill. Read the full Texas Tribune article here.
April 5, 2011
Texas lawmakers debate water property rights
A state custom that gives landowners the rights to groundwater beneath their land still sparks controversy more than a century after its inception. Read the full Houston Chronical article here.
House must slow groundwater bill
"The legislation appears to be a step away from the comprehensive water planning procedures that lawmakers have been working on for the last 20 years." Read the SA Express-News editorial here.
March 31, 2011
Senate votes to make groundwater a vested right
The Texas Senate approved a bill Yesterday that would establish groundwater as a vested right protected by the state Constitution. For the bill's sponsor, Sen. Troy Fraser, R-Horseshoe Bay, its passage is a clarification of state law and an assurance to landowners that they have the right to the water below their property. For groundwater and subsidence districts across the state, the bill, approved 28-3, is a threat to the management of one of the state's most limited resources. Read full SA Express-News article here.
March 31, 2011
Senate Passes SB 332
The Texas Senate passed a much-discussed piece of groundwater legislation, voting 28-3 to approve a bill stating that landowners in the state have a "vested ownership interest" in the groundwater beneath their land...Texas Tribune report.
More on Hill Country Groundwater.
March 30, 2011
Texas Senate passes groundwater legislation
The Texas Senate reaffirmed Wednesday the rule of capture, a century-old state custom that says landowners have a right to groundwater underneath their land. Read the full Star-Telegram article here.
Groundwater proposal gets a compromise – Serious concerns are still alive
KUT covered the story yesterday, "It's a critical time for groundwater districts right now". Read or listen to the story here. Sierra Club released a statement today still opposing the bill, "The Legislature would be subjecting virtually every action by a groundwater district to a potential "takings" claim. Full media release - For history and resources about SB 332 click here.
March 4, 2011
Texas Debates Who Owns Its Water
Read the Texas Tribune article here.
March 1, 2011
Who Owns Texas' Groundwater?
Read the Texas Observer article here.
Febrary 9, 2011
Ranchers lock horns over groundwater
Read the Warton Journal Spectator article here.
February 3, 2011
District wary of senate bill
Read the article from the Bastrop Adviser here.
Janurary 19, 2011
Grassroots fight for local water control takes shape
Read the article from Bastrop Adviser here.
Jaunuary 14, 2011
Landowner groups support Fraser ground water legislation
Read the North Texas E-News article here.
January 12, 2011
Groundwater bill gives property rights groups a leg up
Read the Statesman.com article here.
Texas Senator files bill to clarify homeowner's groundwater rights
Read article from Star-Telegram.com here.
January 5, 2011
Groundwater ownership can be a Trojan Horse
Read article from the Smithville Times here.
Letter to the editor
Read a letter to the editor written by Mike Organ, President of the Bastrop-Lee County Farm Bureau here.