Thanks for making 2016 our biggest Summit yet!
Read all about the 2016 HCA Leadership Summit and link to presentations from our speakers below.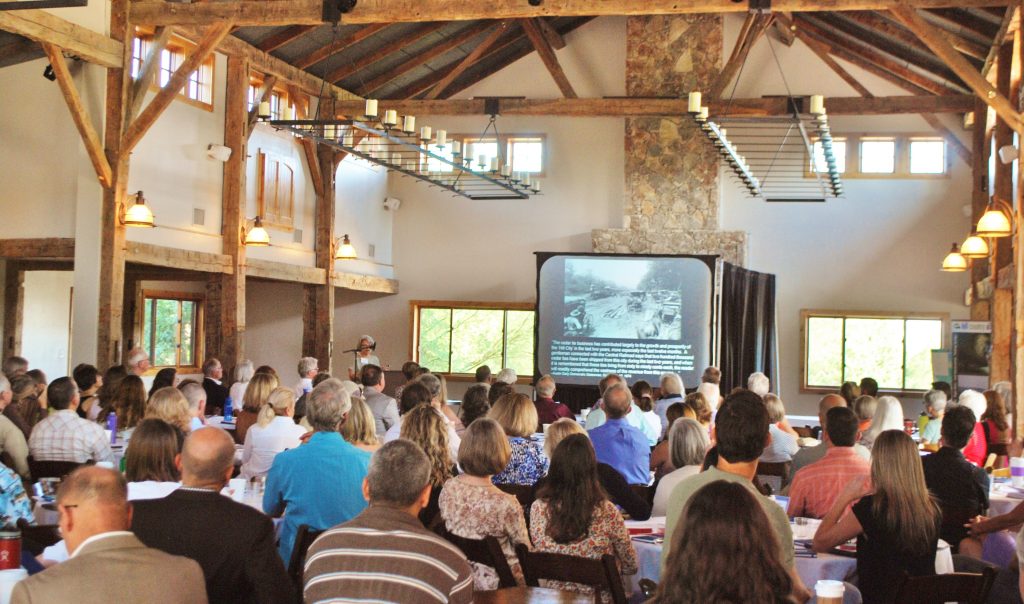 Largest Leadership Summit in Hill Country Alliance History
160 people participate in exploring past, present and future of the region
Conservation leaders from across the Hill Country gathered for the 2016 HCA Leadership Summit: Past, Present and Future at Camp Lucy in Dripping Springs on September 22. The sold-out crowd was the largest in the organization's 10-year history with more than 160 participants in attendance. Speakers covered a wide range of natural resource issues facing the region, including historic ecology of the Hill Country, the changing face of landownership, the impacts of light pollution on starry night skies and the opportunity for re-thinking our cities.
The Need for Collaboration
"We are here because we love the Hill Country," Leo Tynan, MD, HCA Board President, said in his welcome to participants. He described the Hill Country as a province with a culture and iconic landscape, incredible water resources and starry night skies. He also noted that the region faces serious threats including pollution, declining water quality and explosive growth.
A common theme that ran throughout the Summit was the need to work together through communities, organizations and networks to address the challenges facing the Hill Country. Protecting the region's clean, flowing waters, its dark night skies and its open spaces for future generations will require working across traditional boundaries.
David Yeates, CEO of the Texas Wildlife Association, told participants it will be important to be proactive in seeking eminent domain reform, upholding water regulation as well as tax valuations that reward the protection of water and land resources in the 2017 legislative session. According to Yeates, a shift in Texas land ownership is leading to smaller tracts of land and fragmentation of habitat, which threatens wildlife. A million acres has been lost to urbanization in the last 15 years. He concluded that better data and more complex conversations about conservation will be needed.
A panel of Hill Country night skies preservation advocates highlighted some of the successes the collaboration of a diverse group of stakeholders and volunteers has achieved in preventing the spread of light pollution and its impacts on Hill Country night skies: Hill Country state parks and towns have received dark sky designations; electric cooperatives are converting to night sky friendly fixtures; and counties and towns are passing ordinances and resolutions for night sky preservation.
Summit participants learned about a new Hill Country Conservation Network being developed for large scale collaboration to meet future challenges. The Network will help a variety of Hill Country groups come together to advance legislation, share resources and reduce redundancy. The network can facilitate collaborative responses to threats and emergencies as they arise.
New HCA Initiative Announced
Our Hill Country Counts, a new project being launched by the Hill Country Alliance, was unveiled at the Summit, with a preview of the data-driven storytelling the project will create. Our Hill Country Counts will provide a portfolio of indicators to track change in the region over time, and will help policy makers and the general public see whether natural resources are being preserved or lost.
Katherine Romans, HCA's new Executive Director, unveiled the new project as a part of a larger presentation on the work of HCA. She began her presentation by thanking Christy Muse, HCA's founding executive director. "It was Christy Muse who really built this incredible network of people, of organizations, of businesses, of ideas and leaders who are all passionate about the future of this region," she said.
Romans reminded participants that HCA began over concern about unplanned growth. "The HCA family has grown from a living room of passionate people to a supporter list of more than 10,000," Romans said. She noted that the challenges that brought HCA members together, including population growth and incredible consumption of land, have not gone away.
The Summit's keynote speaker offered a vision for revitalizing cities and creating "communities we love." Matt Lewis, President of Simple City Design, offered innovative ideas and solutions for creating places centered around people and their needs rather than the automobile. "Today we are going to change the world," he said. "So I challenge you to change your mindset of what you know and what is, to what could be."
Download Presentations from the 2016 Summit:
Private Land Stewardship: The Road Ahead – David Yeates, CEO—Texas Wildlife Association.
Texas Landscape Project: Nature and People – Jonathan Ogren and David Todd, Authors
The Edge of Night – Ken Kattner, Owner – Putnum Mountain Observatory
The Edge of Night – Doug Cochran, Park Superintendent—Enchanted Rock State Natural Area
Hill Country Connectivity: A Network Approach to Working Together – Patrick Bixler, Research Fellow—RGK Center for Philanthropy and Community Service, LBJ School of Public Affairs, UT Austin.
10 Years of the Hill Country Alliance: Measuring Success – Katherine Romans, Executive Director—Hill Country Alliance
Simple Solutions; Lovely Outcomes. Creating Communities People Love – Matt Lewis, President—Simple City Design
Historical Ecology of the Texas Hill Country – Lisa O'Donnell, Senior Biologist, City of Austin