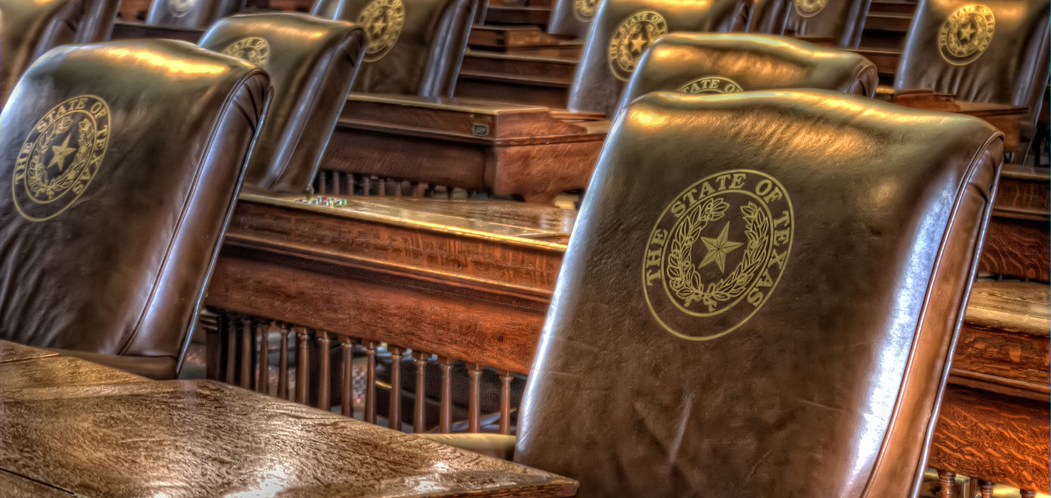 Photo: Terry Alexander
The Texas Legislature
In Texas we have a part-time legislative system. Our State Legislature meets every other year for 140 days in Austin. The 85th Session will run January 10, 2017 through late May or early June, 2017.  The Governor has an option at the conclusion of each regular session to call a special 30 day session to resolve specific agenda items.
Texas Legislature Online is the official Web resource for bill tracking, schedules, committee progress, and member information. You can sign up to receive "alerts" regarding committee meetings and actions regarding bills you choose to track.
The Texas Hill Country Region:
"All previous settlers of this region learned how the land and its resources, particularly water, could only support so many people, a certain quantity of livestock or a particular industry before its quality and quantity would be impacted. For all who choose the Hill Country as their home, an opportunity exists to accommodate existing needs without compromising the ability of future populations to meet their needs." ~ Milan Michalec, HCA President 2013
The Hill Country Alliance (HCA) strives to serve as the "go-to" resource on issues related to the Texas Hill Country. Our region is blessed with a unique economy dependent on the charm and character of our towns, allure of our water features, beauty of our hills and landscapes and the generations of people who care for our heritage ranchlands. HCA strives to build support for sensible strategies to deal with tremendous amount of growth pushing away from Austin and San Antonio, in a way that protects our valuable and fragile natural resources for future generations.
Previous Sessions:  2009 Texas Legislature    2011 Texas Legislature    2013 Texas Legislature
Upcoming Legislative Session – 2017
What's new for the Hill Country Caucus in the 85th Legislature:
Kyle Biedermann R (District 73: Comal, Kendall, and Gillespie Counties) has defeated Rep. Doug Miller in the primary and has won the general election.
Dawn Buckingham R (District 24: Bandera, Kerr, Gillespie, Blanco, Llano, SW Travis, Burnett, and north) has won the retiring Senator Troy Fraser's Senate seat.
Diana Arevalo D (116: West Central Bexar) replaced Rep. Trey Martinez-Fisher.
House Committee on Natural Resources Chairman Representative Jim Keffer is retiring and his seat as Committee Chairman will be filled soon.
Most House and Senate Committees will be shuffled
No changes:

Senator Donna Campbell R (25: Hays, Comal, Kendall, N. Bexar)
Senator Carlos Uresti D (19: Bexar, Medina, Uvalde, Kinney, Real, Edwards, Val Verde, west into the Trans-Pecos)
Senator Charles Perry R (28: Kimble, Mason, Menard, north to Oklahoma) (Senate Committee on Ag. Water and Rural Affairs Chair)
Senator Kirk Watson D (14: Travis, Bastrop)
Senator Jose Menendez D (26: Central Bexar)
Senator Judith Zaffirini D (21: SE Travis to the Valley) (Senate Committee on Ag. Water and Rural Affairs Vice-Chair)
Representative Andrew Murr R (53: Bandera, Medina, Real, Edwards, Kerr, Kimble, Mason, Llano)
Representative Jason Issac R (45: Blanco, Hays)
Representative Tracy King D (80: Uvalde south to Zapata) (Natural Resources Committee)
Representative Paul Workman R (47: W. Travis) (Natural Resources Committee)
Representative Donna Howard D (48: West Central Travis)
Representative Lyle Larson R (122: NW Bexar) (Natural Resources Committee)
Speaker Joe Strauss R (121: North Central Bexar)
Representative Marsha Farney R (20: Burnett, Williamson)
Representative Rick Galindo R (117: West Bexar)
Representative Ina Minjarez D (124: West Central Bexar)
Representative Justin Rodriguez D (125: West Central Bexar)
The Legislature's Interim Reports to inform the 2017 Legislature have been published.   Interim Reports contain the questions for further investigation (Interim Charges) as posed by the Lieutenant Governor and Speaker, contextual background information, invited testimony excerpts, and the Committees' recommendations on how the legislature should address upcoming issues.
Senate Committee on Agriculture, Water, and Rural Affairs Interim Report (with letters of reservation signed by three Committee members attached.) Read the entire Interim Report here.
House Committee on Natural Resources Report here.
85th Legislative Session: Policy Priorities for the Texas Hill Country
The Hill Country region has significant economic value for Texas because of its unique natural features, heritage ranches, culture, beauty and quality of life assets.
The economy of the Hill Country and its land values are dependent upon a clean, plentiful water supply. Amidst a rapidly growing Texas and an enduring drought, we face the challenge of balancing water needs of rural farms and ranches, with growing urban communities. Fundamental to that challenge is the need to protect both the long-term health of our fragile water systems and the property rights of landowners.
In order to sustain water supplies we must realize a water policy framework that protects the health and flow of groundwater, springs, and streams and recognizes natural water catchment boundaries, commonly referred to as watersheds.
Our rivers are over-allocated, surface reservoirs are critically low, and groundwater levels and spring flows are declining. Now is the time for a more innovative, protective and conservative approach to water planning policy.
HCA recommends the following policy objectives to the 85th Texas Legislature:
• Recognize the physical relations between surface-water and groundwater and integrate water planning and management strategies to reflect this connection.
• Defend and enhance the authority of local Groundwater Conservation Districts (GCDs) and their ability to manage and conserve groundwater in accordance with the best available science.
• Dedicate state funding to incentivize the protection and stewardship of land by private landowners in critical Hill Country water catchment areas in order to maintain the essential role of land in capturing, cleansing and storing our water supply.
• Prioritize water conservation as the most effective, economical, and reliable method to address unmet water needs as identified in regional and state water plans.
• Protect water quality by providing more local oversight for industrial and commercial activities in fragile Hill Country riverbeds, floodways and floodplains.
• Encourage the use of grey water and rainwater harvesting systems in new and existing residential, commercial, and institutional developments.
• Enhance funding levels to conduct and support research that expands knowledge of the state's water resources and how to best manage those resources, including the implementation of Water IQ.
• Appropriate funding for Texas Parks through the dedication of sporting goods tax revenue to Texas Parks and Wildlife.
• Defend local control and local ordinance decision making authority so that Hill Country communities can protect private property values, natural resources and quality of life as population continues to increase throughout the region.
• Reform eminent domain to ensure fairness for landowners
Hill Country Alliance Constituent Survey:
HCA conducted a survey of Hill Country constituents in the fall of 2014. Fifty-three percent of the respondents identified themselves as rural, 25% as suburban, and 22% as urban residents.
According to this survey, the two most pressing issues threatening the Hill Country are depleted groundwater resources (81% response) and the threat from unregulated development (66% response).
Respondents supported the use of regulations to limit damage to shared natural resources. A significant majority of respondents (77%) identified with the phrase "Private property rights should be accompanied by government regulations necessary to protect the natural resources of the Hill Country."
Most respondents support regulations to protect the environment at the local level. In fact, a strong majority of respondents (64%) believe that counties should have the authority to regulate incompatible land use, development density, construction in environmentally sensitive areas, scenic beauty, and water quality.
A strong majority of respondents were willing to pay for long-term conservation goals. Seventy-seven percent of respondents were willing to pay for long-term protection of groundwater resources. Also, the survey revealed a willingness to pay for the creation of new, publicly accessible open spaces (55%) and the permanent protection of private lands (48%).
---
HCA's Legislative Recap – 2015
See also:
– Texas Water Journal 84th Legislative Recap: summaries of water-related legislative action Dean Robbins, Stacey Allison Steinbach, Ken Kramer, Sarah Rountree Schlessinger, Perry L. Fowler
– Our Texas Water's 84th Legisilative Recap
–Texas Water Conservation Association (TWCA) 84th Legislative Recap
Rainwater Harvesting:
Water shortages and growing demands make the age-old practice of rainwater harvesting one of the most practical, efficient strategies for our region. These bills could have been a step in the right direction. Keeping the do-it-yourselfers encouraged and without burden is important. A fair licensing program could help with acceptance of RWH by the lending community. Providing financial incentives and reasonable standards could be beneficial also. Neither of these rainwater harvesting initiatives passed.
HB 3837 – Lucio III: Creates a licensing program for certain rainwater harvesting activities. Endorsed by the Texas Rainwater Catchment Association – A companion for this bill was not filed in the Senate. The house bill was heard and a sub was passed out of the House Natural Resource committee but that's as far as it went.
SB 1419 – Kolkhorst: Allows private property owners to install, service, or repair plumbing used for rainwater harvesting on their own property without a plumbing license if the plumbing is not connected to a public water supply. This was a good bill, it never was referred to committee and there was not a companion filed.
Groundwater
Texas' Rule of Capture only works alongside effective groundwater management through groundwater conservation districts.
GOOD for groundwater management and GCD's:
HB 3405 – Isaac / SB 1440 – Campbell: Expands the jurisdiction of the Barton Springs Edwards Aquifer Conservation District to include the areas of the Trinity Aquifer in Hays County outside of the HTGCD including the highly controversial Electro-Purification (EP) wells. While HB 3405 and the companion SB 1440 had tremendous local and regional support, the lobby for EP and some very influential advocates worked against this legislation throughout the session. Senator Perry, Chairman of the Senate Ag/Water/Rural Affairs Committee worked hard against this bill although it had no effect on his Lubbock based district. Towards the end of the session, HB 2075, a bill that removed a provision for the Needmore Ranch MUD that prohibited groundwater use for any development in the MUD, moved quickly to pass and at the same time, HB 3405 was allowed to move through the Senate and back to the House for concurrence. With just a few days left in the session, Representative May Gonzalez of El Paso held things up with a point of order that was eventually over-turned. The legislation ended up passing both chambers, but not without significant compromise including assurance of "a process for existing well owners to apply for a Temporary Permit within the first 90-days to continue to operate the well for up to the maximum production." The bill becomes law in 20 days or when the Governor signs the bill, whichever occurs first. See www.bseacd.org for details and helpful frequently asked questions.
HB 2407 – Miller / SB 963 Campbell: Creates the Comal County Groundwater Conservation District. Passed
HB 1232 – Lucio III: Initiates a study by TWDB to map confined and unconfined aquifers. Passed
HB 1819 – Miller: Alters the election cycle for the Hill Country Underground Water District. Passed
HB 1207 – Murr / SB 363 – Fraser: Alters the election cycle for the Bandera County River Authority and Groundwater District. Passed
HB 3163 – Cyrier: Protects groundwater district board members from harassment lawsuits against them as individuals. Passed
HB 4112 –  Burns:  Adds the right to SAVE A FAIR SHARE of the groundwater to property owners. Passed
HB 655 – Larson: Removes regulatory barriers to developing aquifer storage and recovery (ASR) projects in Texas. Passed
Potentially harmful for Hill Country Water Resources:
HB 1248 – Lucio III/SB 854 – Zaffirini: Addresses the length of time for which a groundwater withdrawal permit may be issued by a groundwater district. Requires GCD to renew or approve permits with certain provisions. Passed
HB 200 – Keefer: Revises the appeals process for the DFC providing additional TWDB oversight. Passed
HB 30 – Larson: Creates a system for managing brackish groundwater as a separate resource from other groundwater. Research is yet needed to determine the interplay between various levels of brackish groundwater and the most responsible way to manage this resource. Passed
Not so hot for Hill Country Water
HB 3298 – Larson / SB 1907 – Perry: Initiates the State Water Grid study. Stalled; unsure at this time how this story will end. An interim study is possible. See Ken Kramer's op-ed.
SB 912 – Eltife: Exempts spills of 1000 gallons or less from reporting by wastewater treatment facilities. Passed
HB 2672 – Workman: Expands the power of the West Travis PUA to include eminent domain, expansion ability and rate setting by an appointed board of directors with very little public oversight. The House bill, without a Senate companion was left pending in Special Districts, dead.   Also see: HB 669 and SB 1121 – both dead.
HB 4038 – Workman: Creates a GCD in a small portion of West Travis County however significant areas are carved out and adequate funding is not included. No Senate companion, dead in the House.
HB 912 – Isaac: Limits the ability for local jurisdictions to protest potentially harmful wastewater permits. Targets Austin/Dripping Springs. Surprisingly passed through the House but was left pending in Senate Ag/Water/Rural.
HB 1402 – Nevarez / SB 552- Uresti: Creates the Coates Ranch MUD in Kinney County west of Brackettville. Concerns include potential groundwater export at levels that would affect springs in Kinney County as well as tributaries westward feeding the Devil's River. Neither bill made it out of committee.
HB 3620 – Isaac: Affects the ability of landowners to participate in water quality protection programs. Could affect the Edwards Aquifer Protection Program, land trusts are concerned. No Senate companion was filed; the bill died in House Land and Resource Management committee.
HB 3621 – Isaac: Allows a small city such as Dripping Springs to take Austin's ETJ without Austin's consent such that water-quality protection ordinances would no longer apply.  No Senate companion was filed; the bill died in House Land and Resource committee.
Public Participation and Contested Case Hearings:  
A core Hill Country issue is unmanaged development that is occurring in the unincorporated areas. Wastewater plants, sand and gravel operations can be quite a problem for nearby landowner owners. Ideally we would love to see more county oversight of these issues. In the meantime, the Contested Case process is really the only way existing landowners have a way to protect their property values and try to negotiate permits that don't damage or degrade neighbors.
HB 1865 – Morrison / SB 709 – Fraser: Transfers the burden of proof to the protesting landowner and alters the process to favor the permit applicant. The TCEQ Contested Case hearings process is already intimidating and financially challenging for most landowners. This legislation and others listed below move this issue in the wrong direction; more challenging for private land stewards, easier for the industrial project. Passed and signed by the Governor.
Drought Response:
Texas is facing unprecedented drought conditions. This bill helps local and state entities to be more knowledgeable, effective, and responsive.
SB 329 – Hinojosa / HB 928 – Guillen: Directs water suppliers and irrigation districts to review and, if necessary, update drought contingency plans every five years and requires significant providers of potable water to submit drought contingency plans and an evaluation of the effectiveness of strategies in the plan that were implemented by the supplier or district during any period of significant drought that occurred in the preceding five years.  This legislation was close to passing when an amendment related to state funding for the San Antonio Vista Ridge pipeline came out of nowhere the last day of the session ultimately killing the bill.
Water Conservation
The most cost effective water supply strategy is water conservation. Directing funding, coordination and efficiency to water conservation is essential. These bills help:
HB 1902 – Howard / Isaac: Amends the Health and Safety Code to make graywater reuse more doable. Passed
SB 551 – Seliger: Requires a report by the Water Conservation Advisory Council to include recommendations to advance water conservation in Texas. Passed
Hill Country Rivers:
Groundwater emerges as springs that feed our life giving and iconic Hill Country Rivers. These bills are helpful for the protection and understanding of our fragile rivers.
HB 1016 – King: This legislation authored by Representative Tracy King along with Senators Carolos Uresti and Judith Zaffirini recognizes five Hill Country stream segments as having unique ecological values. They are the upper reaches of the Nueces, Frio and Sabinal rivers within Uvalde County, the Comal River at Comal Springs and the San Marcos River at San Marcos Springs. The South Central Texas Regional Water Planning Group (Region L), supported this initiative. According to Region L Chairman, Con Mims (Uvalde), "the law only prohibits a political subdivision from financing construction of reservoirs within the segments. But, more importantly, Region L believes the state's recognition of these streams should elevate their visibility and encourage voluntary protection of their uniqueness by adjacent landowners, nearby communities, and visitors. We saw a small opportunity to protect their integrity and worked to achieve it.  We tried to pass this bill in the last Session, but time ran out and it died in committee.  This time, we were successful, thanks to King, Uresti and Zaffirini and their very capable staffs."
SB 636 – Zaffirini: Establishes a Recreational River Use Task Force for the purpose of assessing the effects of recreational use of rivers on state and local economies, environmental health, and water quality, with a focus on areas of heavy recreational use. Referred to Natural Resources and Economic Development, never heard
SB 234 – Zaffirini – Creates the San Marcos River Rec District. Passed through the Senate and through House Special Districts, but never made it on the House Calendar.
HB 1290 – Keefer / SB 523 – Birdwell / Estes / Fraser / Kolkhorst / Perry: Subjects River Authorities to limited sunset review. While this bill provides much needed oversight for the State's large river authorities such as the LCRA, it also had the potential to be overly burdensome and costly to small river authorities that have significantly less budget and far less responsibility over water resources.  Passed
HB 1655 – Bonnen along with Senator Lois Kolkhorst: This legislation requires that Texans who sell waterfront property must notify the buyer that the nearby body of water can fluctuate because of drought, flood or other issues related to water rights. "The droughts and floods along the Colorado River and across Texas have created a problem for property owners that must be addressed," Kolkhorst said in a release. "Prospective home and business owners who are looking to purchase waterfront property are often unaware that the body of water near their property may not always offer a scenic view or recreational opportunities due to water level fluctuation…The droughts and floods across Texas are a reminder that many reservoirs in Texas are not constant-level . This bill makes sure that property buyers and sellers are on the same page before the contract is signed." Passed
Good for Land Conservation and Parks:
SB 1597 – Kolkorst / HB 1925 Geren: Relocates the valuable Texas Farm and Ranchland Program to Texas Parks and Wildlife. Passed
HB 158 – Larson, Keffer, Smith, Guillen, Kacal: Allocates State sporting goods tax to Texas Parks and Wildlife. Passed and signed by the Governor
Makes sense for Transportation Planning:
SB 1032 – Watson / Isreal:  Makes it easier for state employees to telecommute, greatly reducing rush hour traffic without costing taxpayers a dime. This is the kind of strategy that will ultimately improve regional transportation – we'll never build enough roads. Passed
Problematic for Scenic Highways:
HB 1863 – Paddie/SB 1924: Eltife: Mandates a TxDOT "landscape management program" that will allow billboard companies and any other business along the public highway the right to trim and remove seedlings, saplings, trees, and vegetation on public property for "suitable visibility."  No Senate committee hearing at all and left pending in House Transportation committee, died.
Municipal Utility Districts (MUD's) 
This is not a complete list; numerous MUD and Special District legislation passed, particularly in Hays County:
Isaac/Campbell: HB 4214/ SB 2074 – Legacy MUD #1 (781 acres along still-beautiful part of FM 967)
Isaac/Campbell: HB 2259 / SB None – Driftwood Economic Development Municipal Management District (Salt Lick area)
Isaac/Campbell: HB 4183/ SB 2072 – Hays County MUD No. 7
Isaac/Campbell: HB 4184/ SB 2073 – Hays County Development District No. 1  (Caliterra at RR 12/FR 150 HUGE)
Isaac/Campbell: HB 4185/ SB 2070 – Headwaters MUD (Dripping Springs)
Isaac/Zaffirini:   HB 1372/ SB 305 – Cotton Center MUD No. 1
Isaac/Zaffirini: HB  2401 – Crosswinds MUD
Isaac/Campbell: SB 2075 – Relaxes Needmore Ranch to allow them Trinity groundwater use
---