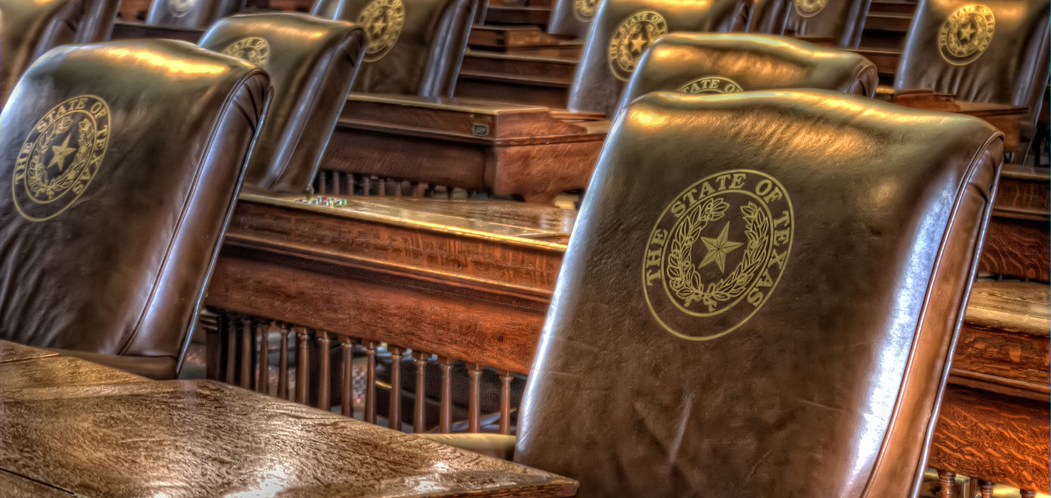 Photo: Terry Alexander
The Texas Legislature

In Texas we have a part-time legislative system. Our State Legislature meets every other year for 140 days in Austin. The 85th Session will run January 10, 2017 through May 29, 2017.  The Governor has an option at the conclusion of each regular session to call a special 30 day session to resolve specific agenda items.
Texas Legislature Online is the official Web resource for bill tracking, schedules, committee progress, and member information. You can sign up to receive "alerts" regarding committee meetings and actions regarding bills you choose to track.
The last day to file bills (other than local) was March 10. By the filing deadline 7,702 bills had been filed, and as of that date, any bill that has been approved by their assigned Committees may be voted on by either chamber of the Legislature.
The budget reduction related to tax cuts and revenue shortfalls will produce a climate in which bills with a price-tag will find little purchase in appropriations committees.
The Texas Hill Country Region:
"All previous settlers of this region learned how the land and its resources, particularly water, could only support so many people, a certain quantity of livestock or a particular industry before its quality and quantity would be impacted. For all who choose the Hill Country as their home, an opportunity exists to accommodate existing needs without compromising the ability of future populations to meet their needs." ~ Milan Michalec, HCA President 2013
The Hill Country Alliance (HCA) strives to serve as the "go-to" resource on issues related to the Texas Hill Country. Our region is blessed with a unique economy dependent on the charm and character of our towns, allure of our water features, beauty of our hills and landscapes and the generations of people who care for our heritage ranchlands. HCA strives to build support for sensible strategies to deal with tremendous amount of growth pushing away from Austin and San Antonio, in a way that protects our valuable and fragile natural resources for future generations.
Read about HCA Policy Priorities for the Texas Hill Country
Previous Sessions:  2009 Texas Legislature  |  2011 Texas Legislature  |  2013 Texas Legislature  |  2015 Texas Legislature
Legislative Session – 2017
What's new for the Hill Country Caucus in the 85th Legislature:
Kyle Biedermann R defeated incumbent Rep. Doug Miller in the primary and won the general election for House District 73 (Comal, Kendall, and Gillespie Counties).
Dawn Buckingham R (District 24: Bandera, Kerr, Gillespie, Blanco, Llano, SW Travis, Burnett, and north) has won the retiring Senator Troy Fraser's Senate seat.
Diana Arevalo D (116: West Central Bexar) replaced Rep. Trey Martinez-Fisher.
Representative Lyle Larson (R San Antonio) has replaced retiring Representative Jim Keffer as House Committee on Natural Resources Chairman.
House and Senate Committees have been shuffled
No changes:

Senator Donna Campbell R (25: Hays, Comal, Kendall, N. Bexar)
Senator Carlos Uresti D (19: Bexar, Medina, Uvalde, Kinney, Real, Edwards, Val Verde, west into the Trans-Pecos)
Senator and Agriculture Water and Rural Affairs Chair Charles Perry R (28: Kimble, Mason, Menard, north to Oklahoma)
Senator Kirk Watson D (14: Travis, Bastrop)
Senator Jose Menendez D (26: Central Bexar)
Senator Judith Zaffirini D (21: SE Travis to the Valley)
Representative Andrew Murr R (53: Bandera, Medina, Real, Edwards, Kerr, Kimble, Mason, Llano)
Representative Jason Issac R (45: Blanco, Hays)
Representative Tracy King D (80: Uvalde south to Zapata) (Natural Resources Committee)
Representative Paul Workman R (47: W. Travis) (Natural Resources Committee)
Representative Donna Howard D (48: West Central Travis)
Representative Lyle Larson R (122: NW Bexar)
Speaker Joe Strauss R (121: North Central Bexar)
Representative Marsha Farney R (20: Burnett, Williamson)
Representative Rick Galindo R (117: West Bexar)
Representative Ina Minjarez D (124: West Central Bexar)
Representative Justin Rodriguez D (125: West Central Bexar)
The Legislature's Interim Reports to inform the 2017 Legislature have been published.   Interim Reports contain the questions for further investigation (Interim Charges) as posed by the Lieutenant Governor and Speaker of the House, contextual background information, invited testimony excerpts, and the Committees' recommendations on how the legislature should address upcoming issues.
Senate Committee on Agriculture, Water, and Rural Affairs Interim Report (with letters of reservation signed by three Committee members attached.) Read the entire Interim Report here.
House Committee on Natural Resources Report here.
85th Legislative Session: Policy Priorities for the Texas Hill Country
The Hill Country region has significant economic value for Texas because of its unique natural features, river producing aquifers, heritage ranches, culture, beauty and quality of life assets.
The economy of the Hill Country and its land values are dependent upon a clean, plentiful water supply. Amidst a rapidly growing Texas and an enduring drought, we face the challenge of balancing water needs of rural farms and ranches, with growing urban communities. Fundamental to that challenge is the need to protect both the long-term health of our fragile water systems and the property rights of landowners.
In order to sustain water supplies we must realize a water policy framework that protects the health and flow of groundwater, springs, and streams and recognizes natural water catchment boundaries, commonly referred to as watersheds.
Our rivers are over-allocated, and groundwater levels and spring flows are declining. Now is the time for a more innovative, protective and conservative approach to water planning policy.
HCA recommends the following policy objectives to the 85th Texas Legislature:
• Recognize the physical relations between surface-water and groundwater and integrate water planning and management strategies to reflect this connection.
• Defend and enhance the authority of local Groundwater Conservation Districts (GCDs) and their ability to manage and conserve groundwater in accordance with the best available science.
• Dedicate state funding to incentivize the protection and stewardship of land by private landowners in critical Hill Country water catchment areas in order to maintain the essential role of land in capturing, cleansing and storing our water supply.
• Prioritize water conservation as the most effective, economical, and reliable method to address unmet water needs as identified in regional and state water plans.
• Protect water quality by providing more local oversight for industrial and commercial activities in fragile Hill Country riverbeds, floodways and floodplains.
• Encourage the use of grey water and rainwater harvesting systems in new and existing residential, commercial, and institutional developments.
• Enhance funding levels to conduct and support research that expands knowledge of the state's water resources and how to best manage those resources, including the implementation of Water IQ.
• Appropriate funding for Texas Parks through the dedication of sporting goods tax revenue to Texas Parks and Wildlife.
• Defend local control and local ordinance decision making authority so that Hill Country communities can protect private property values, natural resources and quality of life as population continues to increase throughout the region.
• Reform eminent domain to ensure fairness for landowners
Resources
Read about HCA Policy Priorities for the Texas Hill Country
Legislative Helpful HCA Issue Resource Pages: Groundwater, Water Quality, Water Planning, Water Conservation, County Authority, Scenic Beauty
Legislative News:
While we update our website regularly with Hill Country specific information, Texas Tribune Online is an extremely valuable resource for up to the minute news from the Leg.
The Texas Tribune also has excellent data resources to help you learn more including a directory of elected officials, super PACs, campaign finance sources, explore more on your own at Texas Tribune Data.
Hill Country Alliance Constituent Survey:
HCA conducted a survey of Hill Country constituents in the fall of 2014. Fifty-three percent of the respondents identified themselves as rural, 25% as suburban, and 22% as urban residents.
According to this survey, the two most pressing issues threatening the Hill Country are depleted groundwater resources (81% response) and the threat from unregulated development (66% response).
Respondents supported the use of regulations to limit damage to shared natural resources. A significant majority of respondents (77%) identified with the phrase "Private property rights should be accompanied by government regulations necessary to protect the natural resources of the Hill Country."
Most respondents support regulations to protect the environment at the local level. In fact, a strong majority of respondents (64%) believe that counties should have the authority to regulate incompatible land use, development density, construction in environmentally sensitive areas, scenic beauty, and water quality.
A strong majority of respondents were willing to pay for long-term conservation goals. Seventy-seven percent of respondents were willing to pay for long-term protection of groundwater resources. Also, the survey revealed a willingness to pay for the creation of new, publicly accessible open spaces (55%) and the permanent protection of private lands (48%).