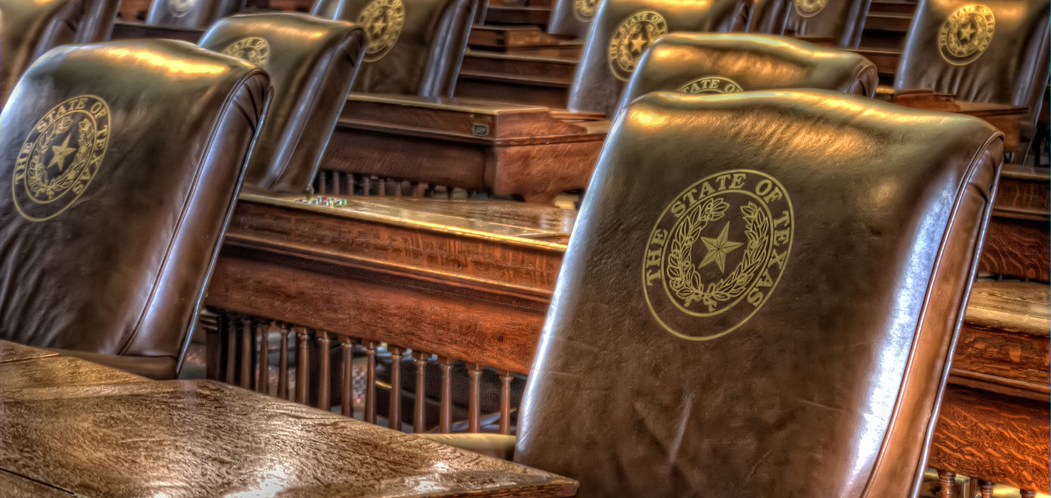 Photo: Terry Alexander
The Texas Legislature

The 2019 86th Texas Legislature session is over!
HERE is HCA's list of Hill Country oriented bills with analysis. We have grouped them into Good for the Hill Country, Bad for the Hill Country, and Worth Watching.  The Worth Watching set are those bills that are either mysterious or are subject to receiving lots of new language that may change its effect.   Note that each bill listing is hyperlinked to its history, current status, and specific language.
Surprise of the 86th Session: with the introduction of the 42″ Kinder-Morgan petroleum pipeline that is currently making its way east from Midland and slated to pass through Kimble, Gillespie, Blanco, and Hays Counties, we have seen a surge of petroleum pipeline and eminent domain process reform bills. This pipeline construction process has demonstrated to our neighbors that they have very few good options when the land men come knocking.
Some notable bills that passed:
HB 13: Phelan/SB 7 Creighton                       Flood Planning, Mitigation, Projects                 SB 7  Signed by Governor
Directs the TWDB to prepare and adopt a state flood plan (based on regional flood plans), and would create a new state flood infrastructure fund to provide state financial assistance for structural and nonstructural projects for flood mitigation and drainage, and appropriates $1.7 billion out of the state's Economic Stabilization Fund for the new flood fund. See also HJR 4 and SB 8. (SB 7: Creighton)
HB 721: Larson                     Aquifer Storage & Recovery Studies                                                             Signed by Governor
Directs the Texas Water Development Board (TWDB) and managers to conduct Aquifer Storage and Recovery studies of aquifer characteristics and water needs, and to report to the governor, lieutenant governor, and speaker of the house of representatives.
HB 722: Larson                     Brackish Groundwater Production                                                               Signed by Governor
Water Code amendment of brackish groundwater production zones. Allows for adoption of rules, annual reports, and 30-year permit terms.
HB 1125: Murr                      Historic Courthouse Preservation                                           Companion Signed by Governor
Enhances a rural county's ability to access State Historical Preservation funds for the preservation of historic courthouses. (SB 496)
HB 1214: Cyrier                    Parks and Wildlife Department Funding                             Companion Signed by Governor
Allocates state sales and use taxes on sporting goods to the Texas Parks and Wildlife Department. (SB-526; SB 26)                                 
HB 1824: Murr                     Fish Habitat Protection                                                                                         Signed by Governor
Allocates taxes from the sale of aggregates to the enhancement, preservation, and restoration of fish habitats in rivers and streams by the Texas Parks and Wildlife Department (TPWD).
HB 2201: Goodwin               Set Election Date for Travis Co. Groundwater District      Companion Signed by Governor
Would set a November 2019 confirmation and Director election for the Southwestern Travis County Groundwater Conservation District. (SB 669: Buckingham) SB 669
HB 2590: Biedermann          Municipal Utility District Reform                                                                  Signed by Governor
Would strengthen the application process for Municipal Utility Districts, as well as grants counties more authority over density and addresses land use within the Hill Country Primary Groundwater Management Area to protect groundwater and surface water quality.
HB 4158: Zwiener                 Dark Sky Community Funding                                                                          Passed
Would allow cities that have applied for designation as International Dark Sky Communities to expend Hotel Occupancy Tax revenue on the promotion and preservation of Dark Skies through the construction and maintenance of infrastructure that reduces light pollution.
SB 8: Perry                            State Flood Plan                                                                                                         Signed by Governor
Establishes the State Flood Plan to be administered by the Texas Water Development Board. One of a trio of disaster relief bills that Lt. Gov. Dan Patrick identified as a priority this legislative session. Would establish the funding mechanisms to provide grants and loans for flood control and mitigation projects. In tandem with House Joint Resolution 4 amending the Texas Constitution to create the Flood Infrastructure Fund.
SB 520: Campbell                 New Braunfels ASR Authorization                                                                    Signed by Governor
The bill would allow the City of New Braunfels to inject fresh water with a total dissolved solids concentration of less than 1,500 milligrams per liter into a portion of the Saline Edwards Aquifer that. Oversight by the Edwards Aquifer Authority would ensure that the integrity of the aquifer and quality of groundwater would be protected. (HB 481: Kuempel)
SB 942: Johnson                    Conservation Easements to Protect Water Quality                                     Signed by Governor
Gives clear legislative authority to the TWDB to make state financial assistance from the state water pollution control revolving fund available for use of conservation easements and other such tools that are effective in reducing nonpoint sources of water pollution. (HB 2023)
The Process and How to Participate:
In Texas we have a part-time legislative system. Our State Legislature meets every other year for 140 days in Austin. The 86th Session will run January 8, 2019 through May 27, 2019.  The Governor has an option at the conclusion of each regular session to call a special 30 day session to resolve specific agenda items.
Texas Legislature Online is the official Web resource for bill tracking, schedules, committee progress, and member information. You can sign up to receive "alerts" regarding committee meetings and actions regarding bills you choose to track.
The last day to file bills (other than local) is March 8, 2019. By the filing deadline, any bill that has been approved by their assigned Committees may be voted on by either chamber of the Legislature.
The budget reduction related to tax cuts and revenue shortfalls will produce a climate in which bills with a price-tag will find little purchase in appropriations committees.
The Texas Hill Country Region:
"All previous settlers of this region learned how the land and its resources, particularly water, could only support so many people, a certain quantity of livestock or a particular industry before its quality and quantity would be impacted. For all who choose the Hill Country as their home, an opportunity exists to accommodate existing needs without compromising the ability of future populations to meet their needs." ~ Milan Michalec, HCA President 2013
The Hill Country Alliance (HCA) strives to serve as the "go-to" resource on issues related to the Texas Hill Country. Our region is blessed with a unique economy dependent on the charm and character of our towns, allure of our water features, beauty of our hills and landscapes and the generations of people who care for our heritage ranchlands. HCA strives to build support for sensible strategies to deal with tremendous amount of growth pushing away from Austin and San Antonio, in a way that protects our valuable and fragile natural resources for future generations.
Read the HCA Response to the House Natural Committee's Current Interim Charges
Read about HCA Policy Priorities for the Texas Hill Country
Previous Sessions:  2009 Texas Legislature  |  2011 Texas Legislature  |  2013 Texas Legislature  |  2015 Texas Legislature |  2017 Texas Legislature
---
86th Texas Legislative Session – 2019
HCA's 2019 Bill List with links to bill activity and exact bill language.
HCA's Legislature Issue Brief Series: 
Municipal Annexation
Rainwater Harvesting
County Tools: Reasonable and Necessary Practices
MUDs, WCIDs & Hill Country Water Supply
What's new in the Legislature for 2019?
The 86th Legislature's relatively stable Hill Country Caucus saw some House of Representative shake-up in Bexar, Hays, Blanco, and Travis Counties; and a Senate shift along the southern counties in the 2018 election.
Senator Pete Flores R (District 19: Bexar, Medina, Uvalde, Kinney, Real, Edwards, Val Verde, west into the Trans-Pecos) replaced Carlos Uresti D
Representative Erin Zwiener D (House District 45: Hays and Blanco) replaced Jason Issac R.
Representative Vikki Goodwin D (House District 47: Western Travis County) defeated Paul Workman R.
Representative Steve Allison R (House District 121: North Central Bexar) replaced outgoing Speaker Joe Strauss R
Representative Philip Cortez D (House District 117: West Bexar) replaced Rick Galindo R
A Special Election will replace outgoing Justin Rodriguez D (House District 125: Bexar)
Representative Dennis Bonnen R (District 25, Angleton) replaced the outgoing Joe Strauss as Speaker of the House
House and Senate Committees will be shuffled
No changes:
Senator Donna Campbell R (25: Hays, Comal, Kendall, N. Bexar)
Senator Dawn Buckingham R (24: Bandera, Kerr, Gillespie, Blanco, Llano, SW Travis, Burnett, and north)
Senator and Water and Rural Affairs Committee Chair Charles Perry R (28: Kimble, Mason, Menard, north to Oklahoma)
Senator Kirk Watson D (14: Travis, Bastrop)
Senator Jose Menendez D (26: Central Bexar)
Senator Judith Zaffirini D (21: SE Travis to the Valley)
Representative Kyle Biedermann R (73: Comal, Kendall, and Gillespie Counties)
Representative Andrew Murr R (53: Bandera, Medina, Real, Edwards, Kerr, Kimble, Mason, Llano)
Representative Tracy O King D (80: Uvalde south to Zapata) (Natural Resources Committee)
Representative Donna Howard D (48: West Central Travis)
Representativeand Natural Resources Committee Chair Lyle Larson R (122: NW Bexar)
Representative  Terry Wilson R (20: Burnett, Williamson)
Representative Diana Arevalo D (116: West Central Bexar)
Representative Ina Minjarez D (124: West Central Bexar)
---
Resources
Read about HCA Policy Priorities for the Texas Hill Country
Legislative Helpful HCA Issue Resource Pages: Groundwater, Water Quality, Water Planning, Water Conservation, County Authority, Scenic Beauty
Legislative News Resources:
While we update our website regularly with Hill Country specific information, Texas Tribune Online is an extremely valuable resource for up to the minute news from the Leg.
The Texas Tribune also has excellent data resources to help you learn more including a directory of elected officials, super PACs, campaign finance sources, explore more on your own at Texas Tribune Data.
Hill Country Alliance Constituent Survey:
HCA conducted a survey of Hill Country constituents in the fall of 2014. Fifty-three percent of the respondents identified themselves as rural, 25% as suburban, and 22% as urban residents.
According to this survey, the two most pressing issues threatening the Hill Country are depleted groundwater resources (81% response) and the threat from unregulated development (66% response).
Respondents supported the use of regulations to limit damage to shared natural resources. A significant majority of respondents (77%) identified with the phrase "Private property rights should be accompanied by government regulations necessary to protect the natural resources of the Hill Country."
Most respondents support regulations to protect the environment at the local level. In fact, a strong majority of respondents (64%) believe that counties should have the authority to regulate incompatible land use, development density, construction in environmentally sensitive areas, scenic beauty, and water quality.
A strong majority of respondents were willing to pay for long-term conservation goals. Seventy-seven percent of respondents were willing to pay for long-term protection of groundwater resources. Also, the survey revealed a willingness to pay for the creation of new, publicly accessible open spaces (55%) and the permanent protection of private lands (48%).