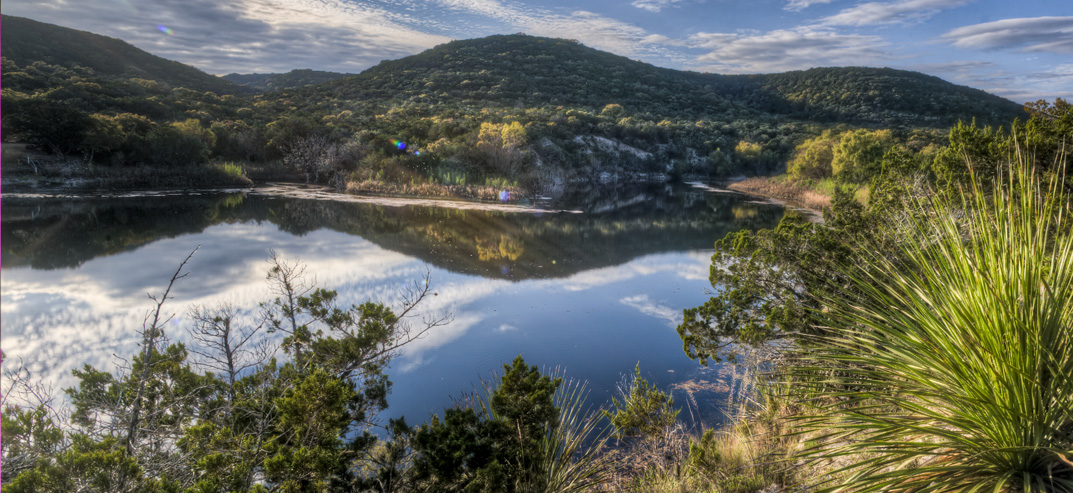 Photo: Chase Fountain
Water Catchment Scale Planning and Conservation
Water catchments are widely recognized as the most effective management unit for the protection of water resources, both water quality and supply. A water catchment (commonly referred to as a "watershed") is an area of land where all water flows to a single stream, river, lake or even ocean. Natural boundaries of water catchments can be very small for a single creek or stream or quite large—the Colorado River basin for example. HCA encourages the use of the term "water catchment" over "watershed." A water catchment area is home to a complete water-cycle system. In order to manage these systems for a healthy future, we must learn to catch, conserve and make wise use of all water in the system, rather than "shed" that water away as the term "watershed" implies.
The concept of "Water Catchment" is common around the globe
"A catchment is an area where water is collected by the natural landscape. In a catchment, all rain and run-off water eventually flows to a creek, river, lake or ocean, or into the groundwater system. Natural and human systems such as rivers, bushland, farms, dams, homes, plants, animals and people can co-exist in a catchment." – Sydney Catchment Authority
Healthy catchments provide:
• A source of clean drinking water
• Unspoiled natural areas for recreation
• Habitat for plants and animals
• Healthy vegetation and waterways
• Reliable and clean water for stock and irrigation
• Opportunities for sustainable agriculture and industry.
Our daily activities affect the health of our catchments. The first step to protect our catchments is to better understand our impact on them.
Water Catchment Protection Planning in Texas
Water catchment protection planning in Texas typically addresses water quality issues for creeks and river systems that are threatened or "impaired". While water catchment planning can take many forms, it is common for funds to come from EPA through the Clean Waters Program in the form of "319 Grants". These are locally developed, holistic plans that coordinate activities and resources to manage water quality. The TCEQ has helpful resources on this type of planning process here.
Here in the Hill Country, we have identified eleven water catchment protection plans in the works. Click here to view a helpful map of our region and a legend to the water catchment protection plans we currently know of. What's encouraging is that we are beginning to see movement to a more proactive approach to planning. Stakeholders along the
South Llano for example include the South Llano Watershed Alliance and TPWD working together for Guadalupe Bass restoration and overall watershed stewardship goals. The Cypress Creek Watershed Protection Plan  is addressing stormwater runoff in a developing watershed. And in Boerne, the City has partnered with area stakeholders to develop a proactive, non-regulatory program to address impacts of suburban growth and development.
Water Catchment Scale Land Conservation – Conserving Land Conserves Water
Water and land are inseparable; clearly what we do on the land affects water resources within a water catchment. There is tremendous public value in adopting policies that reward landowners for practicing stewardship that enhances our region's water supply. In general, HCA supports these types of policies and hopes to help identify new and creative ways to develop "market-based" solutions to land/water conservation.
Legislation passed in 2011 would have allowed for a new land valuation (tax benefit) for water stewardship practices on private lands. This program was promoted by the Nature Conservancy of Texas as a new national model for rewarding landowners for protecting and enhancing water resources that ultimately benefit the public. In order to go into effect, the public needed to pass "Proposition 8" in the fall of 2011, which did not happen.
Purchase of Development Rights (PDR) programs have been promoted for many years yet rarely funded. The idea is to create a fund to help pay for conservation easements that will ultimately limit development on private land (voluntarily) in exchange for tax benefits.
Recent Water Catchment News
Hill Country View
Helpful Documents
Helpful Links