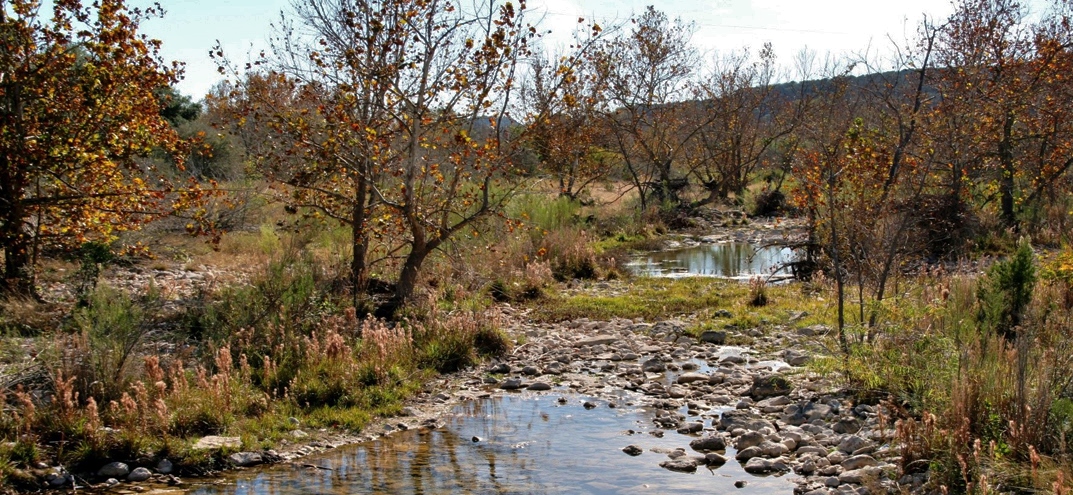 Riparian Management
An easy way to keep Hill Country streams clean and flowing is to use simple riparian management techniques. A riparian area is often described as the "river bank" but in reality it is much more. The riparian area is the interface between land and water along a body of water. It includes the vegetation, soils and features from the water's edge across the flood plain to the upland area. Typically, the best approach for managing this system is to do nothing, observe and let nature do the work.
Where riparian areas have been disturbed from overgrazing, mechanical lawn mowing, excessive erosion or other alterations to the natural order, restoration MAY be necessary to re-create a healthy functioning system, resulting in more water and cleaner water. The value of riparian preservation/restoration work is immeasurable when you consider the quandary we face with dwindling water supplies throughout the Hill Country. Healthy riparian areas protect water supply in times of drought and slow water velocity in times of flood.
In a nutshell, dense vegetation (native trees, shrubs and grasses) and an active floodplain are necessary to slow water down (dissipate energy) and trap mobile sediment. These are the building blocks of riparian health. Interlaced roots and trapped sediment rich in water storing organic material help to stabilize banks and conserve floodwater. That water recharges groundwater resources and can return to the channel in the form of clean base flow.
The first step toward good riparian management is having an understanding of what a healthy riparian area looks like and how it functions in both drought and flood. On this page you'll find important links and documents to help educate Hill Country landowners and citizens about proper riparian land management.
Riparian Recovery in the Blanco River
Helpful Publications
Your Remarkable Riparian Field Guide

Author: Sky Lewey
Supporters: The Meadows Foundation, The Dixion Water Foundation, Stewards of the Nueces, Texas Wildlife Association Foundation, and Texas Coalition-Grazing Lands Conservation Initiative, United states Department of Agriculture-Natural Resources Conservation Service.
Description: Field guide to riparian plants within the Nueces River Basin.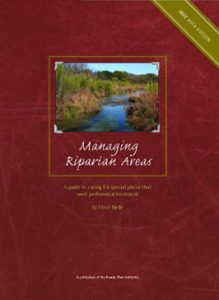 Author: Steve Nelle
Description: As Texas' most acclaimed riparian educator, Steve Nelle has created here a thorough, well-organized, and wise guide for riparian stewards everywhere. He has a great deal of knowledge to impart and has done it wonderfully within these pages— almost as good as a walk along the bank of a special stream with Steve as our personal guide.
Recent Riparian News
Twelve feet below the water in the San Marcos River, conservationists pluck invasive plants from the riverbed. Hydrilla and hygrophila are the victims of this widespread removal. They're targeted because…
read more