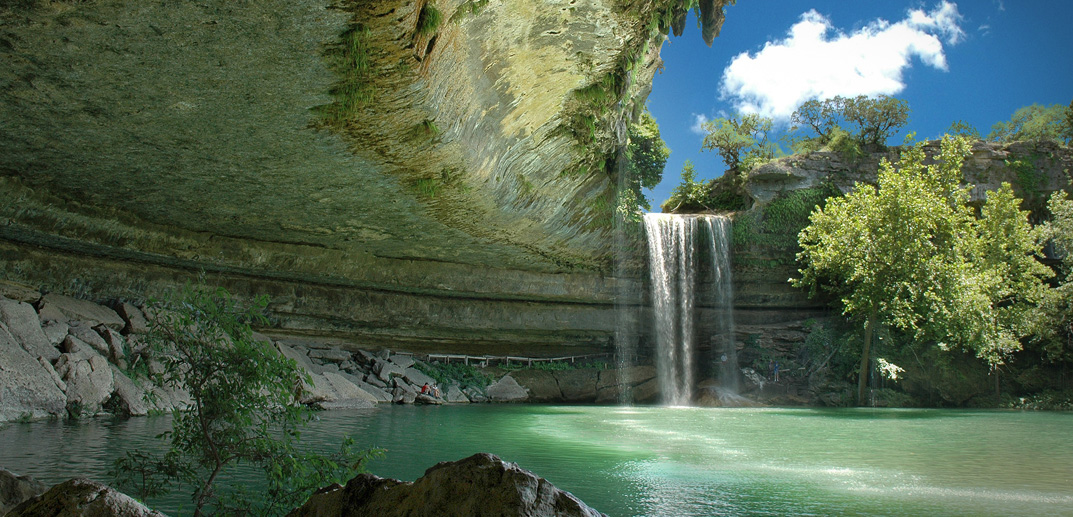 Photo: Dave Wilson
Water Quality
We are fortunate to enjoy drinking water from our rivers and aquifers that is largely high quality – clear, clean and safe for swimming and fishing. However, especially as development continues to put pressure on the land, we must ensure that the water quality standards that are in place are enforced and that new development does not jeopardize the clean, clear water that helps make the Hill Country our home.
Recognizing that undeveloped land is a major component in cleaning dirty water and keeping clean water clean, many cities have instituted programs that purchase development rights in their water supply basins to guarantee cleaner drinking water. In the long run, it is cheaper to keep the water's source clean than to clean contaminated water.
Water quality is degraded by pollution from two main sources: direct or point sources such as discharge from a wastewater treatment plant (2018 TCEQ Discharge Permit Violation Study here) and nonpoint sources such as polluted runoff from agricultural fields and livestock operations, construction debris, impervious cover like streets and parking lots and particles in the air released by sources like vehicles and power plants. Pollution from nonpoint sources is much more difficult to address. In some areas, riparian lands — the banks of rivers and streams — are protected by regulations that require vegetative buffers and silt control structures where riparian land is disturbed, which helps prevent erosion and increased runoff. Enforcement of these regulations, however, is often difficult. Construction runoff is a significant threat to our water quality, and citizens of the Hill Country can help by monitoring construction activities and observing any waterway banks for signs of pollution.
Point source threats to water quality and air quality:  Compliance and enforcement of permitted facilities studies.  These are reports and data sets compiled from TCEQ databases in 2018 that illustrate point source threats.
Wastewater Effluent
As the population of the Hill Country grows, so does the amount of wastewater produced. More wastewater becomes more difficult to 'get rid of', however, many of our communities who see the value in keeping effluent out of our beautiful streams and rivers have begun to struggle with the realities of the high cost of disposal. Some would prefer to abandon the land application of treated sewerage to the more affordable and easy to permit direct discharge method. The direct discharge of treated effluent into our streams and rivers is a sure recipe for algae blooms, contamination, and will harm the health of our waterways. In some instances, those waterways directly recharge our drinking water aquifers.
Many of our communities are seeing the value of reusing that wastewater rather than 'get rid of it'. There is an innovative rules change petition before the TCEQ that would reduce the price of the relatively benign land application methods, while encouraging the practice of reusing that 'waste' in a beneficial manner.
The City of Dripping Springs has requested a new permit from the Texas Commission on Environmental Quality (TCEQ) to discharge treated sewage into a tributary of Onion Creek. Currently, the city disposes of its waste water by way of irrigation. Downstream property owners, municipalities, and clean water advocate groups  are concerned by the possible degradation of this pristine Hill Country stream by nutrient rich and contaminant laden treated effluent. Additionally, both of the area's aquifer districts have voiced opposition to the discharge permit citing a recent scientific study illustrating that Onion Creek flows into the Trinity Aquifer just downstream from the city's discharge point – and thus could potentially introduce contaminants into tens of thousands of local residents' drinking water wells. ProtectOurWaterNow.org has the most comprehensive web-site for documentation related to this requested permit, resolutions, and science.
Here are related news articles from the Hays Free Press, KXAN, News Dispatch, and the Austin American Statesmen.
As of October 2018, there are at least eight effluent discharge permit applications pending at TCEQ that if approved would allow the dumping of over 5,000,000 gallons of effluent per day into our iconic streams and rivers. Map HERE
A few of these discharge permit applications have generated public action and below are citizen group websites:
"The No Dumping Sewage Campaign is the combined effort of a number of nonprofit organizations and citizens interested in a less polluting future for the Edwards Aquifer and Texas Hill Country. We educate about the problems associated with direct discharge and the benefits of more sustainable alternatives."
Protect Our Blanco: Blanco River, City of Blanco (225,000 1,600,000 gallons per day) TCEQ ID# WQ0010549002
Protect Our Water: Onion Creek, City of Dripping Springs, Hays County (995,000 822,500 gallons per day)
Greater Edwards Aquifer Alliance (GEAA): Honey Creek -> Guadalupe River, Comal County, Honey Creek Ranch – Silesia Properties (500,000 gallons per day) TCEQ ID# WQ0015688001
TCEQ PUBLIC MEETING NOTICE: Tuesday, August 20, 2019 at 7:00 PM
Rahe Bulverde Elementary School : 1715 East Ammann Road : Bulverde, Texas 78163
GEAA: Indian Creek -> Cibolo Creek, Comal County, Bulverde Point/Ammann Oaks (300,000 gallons per day)
Barton Creek, Long Branch – Sawyer-Cleveland Partnership, Hays County (92,000 gallons per day) TCEQ ID# WQ0015594001
The Friends of Hondo Canyon: Commissioner's Creek -> Hondo Creek near Tarpley – Bandera County (49,000 gallons per day) TCEQ ID# WQ0015713001
Guadalupe River, City of Center Point, Kerr County (12,000 gallons per day)
Comanche Creek -> Llano River: City of Mason (350,000 gallons per day)
San Marcos River Foundation (SMRF): York Creek -> San Marcos River: Crystal Clear Special Utility District (100,000 gallons per day)
SMRF: San Marcos River tributary: HK Real Estate Development (500,000 gallons per day)
SMRF: Dickerson Creek -> San Marcos River: Cherryville GP and Cherryville # 5 Ltd. (160,000 gallons per day) TCEQ PUBLIC MEETING NOTICE: July 16th
Read HCA's Public Comments to the TCEQ on the City of Blanco and the Honey Creek (Comal County) permit applications.
Water pollutants include bacteria; nutrients, chiefly nitrogen and phosphorus from wastewater discharge or agricultural and municipal runoff; and other particulate matter, like oil and toxic chemicals. Each of these pollutants must be addressed in order to preserve high-quality water.
Bacteria: The main sources of bacterial pollution are agricultural operations (especially ones with large populations of livestock) and untreated discharge (like leaky septic tanks). The TCEQ is responsible for regularly updating the state's Water Quality Standards, which set limits on bacteria in the state's surface water. During the last revision, in March 2010, the commissioners retained the existing level of protection for main reservoirs and other highly trafficked recreational sources. However, the commissioners also created new categories that will allow some streams used for recreation to contain more bacteria. More information on the rating and designation of specific stream segments can be found on TCEQ's website here.
Nutrients: Nutrients pollute water by providing additional fuel for algae. Uncontrolled algae growth can create toxic "algal blooms," which suck up all of the available oxygen, killing fish and other wildlife. Rocky, standing bodies of water, like Lake Travis, are particularly sensitive to nutrient pollution. In addition to runoff from fertilizers (which contain large quantities of phosphorus and nitrogen), increased wastewater discharge can be a significant source of nutrient pollution. This is why the Highland Lakes watershed is protected by the Wastewater Discharge Ban, a TCEQ rule that limits the amount of direct discharge within a 10-mile area of the watershed. However, discharge outside this area and into other Hill Country water sources can still have negative effects on water quality. Since wastewater discharge increases with population growth, finding efficient ways to reuse discharge will be a key part of protecting the quality of our water supply.
Chemicals: Toxic chemicals, oil and other particles deposited through rain and runoff are also increasingly common as land is developed and paved over. Pollutants build up on impervious cover like buildings, streets and parking lots, and drain into creeks, streams and aquifers when it rains. Maintaining adequate open spaces and protecting fragile karst formations that are key locations for groundwater recharge can help minimize the effects of pollution from toxic runoff. Also see HCA's Sustainable Development page here, which includes information on Low Impact Development, a stormwater management technique that reduces contaminated runoff.
Emerging Contaminants: Scientists are seeing a nationwide trend in the increase of Contaminants of Emerging Concern (CECs). The term "contaminant of emerging concern" a term that has been used loosely since the mid-1990s by EPA and others to identify chemicals and other substances that have no regulatory standard, have been recently "discovered" in natural streams (often because of improved analytical chemistry detection levels), and potentially cause deleterious effects in aquatic life at environmentally relevant concentrations.
They consist of  pharmaceuticals (stimulants, birth-control, anti-depressants, etc), Teflon, micro-plastics among others not currently included in routine monitoring programs and may be candidates for future regulation depending on their (eco)toxicity, potential health effects, public perception, and frequency of occurrence in environmental media. CECs are not necessarily new chemicals. They include pollutants that have often been present in the environment, but whose presence and significance are only now being evaluated.  More information here.
This illustration shows the alarming number of septic and land application sites for treating wastewater in the Barton Spring recharge zone. The Hill Country region is fragile and as development pushed out of Austin and San Antonio, the "business as usual" models for treated wastewater are posing an increasing threat to groundwater throughout many urbanizing counties. Read more from David Venhuizen: Nitrate Increasing in Barton Springs (and the Hill Country for that matter) — and What We Can DO About It. More about water quality and wastewater permits in the Barton Segment here.
Recent Water Quality News
Everyone loves those home makeover shows where a visionary decorator and demolition-loving partner take a quaint old home and turn it into a Better Homes and Gardens cover story. Well,…
read more