01augAll Day31Austin - Application open for Texas Master Naturalists Class of 2018
Event Details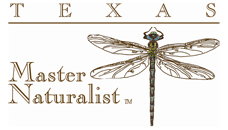 Applications being accepted for the Texas Master Naturalist Capital Area Chapter 2018 Class
Beginning August 1st and running through August 31st, the Capital Area Master Naturalist Chapter will accept applications for the class of 2018, which begins in the fall of 2017 and runs through April, 2018.
The mission of the Texas Master Naturalists is to develop a corps of well-informed volunteers to provide education, outreach, and service dedicated to the beneficial management of natural resources and natural areas within their communities for the State of Texas. The organization is sponsored by Texas Parks and Wildlife in conjunction with the Texas A&M AgriLife Extension Service. The Capital Area chapter, based in Austin and Travis County, has over 150 active members and provides over 9000 volunteer hours with partner organizations.
Our classes are held on Saturdays from mid-November through late April at a variety of sites in and around Austin. New students are accepted through a selective application process. More information is available at www.camn.org. Applications can be accessed at the same website beginning August 1st.
Time

august 1 (Tuesday) - 31 (Thursday)