08nov6:30 pm8:30 pmNew Braunfels - Land Conservation Options for Comal County
Event Details

Land Conservation Options for Comal County

Wednesday, November 8, 2017
6:30 pm to 8:30 pm
McKenna Events Center
801 W. San Antonio Street, New Braunfels, TX (map)
The event is free, and walk-ins are welcome

The public is invited to a panel discussion about various options for public and private land conservation in Comal County. The evening will include an overview of current land preservation in Comal County, options that private individuals can use for protecting their land for future generations, and tools that can be used by local city and county governments to obtain and maintain land protections for wildlife habitat, healthy waterways, recreation and scenic vistas.

"Comal County has been among the top ten fastest-growing counties in the country for the past four years running," noted Katherine Romans, Executive Director of the Hill Country Alliance. "Until we see investment in conservation happening in a more strategic way, we will continue to lose land to development much faster than we protect it."

"Budget constraints often prevent most counties and cities, especially small rural cities like Bulverde, Garden Ridge, and Spring Branch, from going out and purchasing the open space or park lands desired by their constituents," commented Annalisa Peace of the Greater Edwards Aquifer Alliance, another organizer and moderator for the evening. "We have to look at how other communities in the Hill Country are creating conservation opportunities, and think about if and how we can create those same tools for landowners in Comal County."

Panelists include Comal County Engineer Tom Hornseth, Julie Koppenheffer, an attorney with years of experience in land conservation law, Jensie Madden of the League of Women Voters of Comal Area, and Dianne Wassenich of the San Marcos River Foundation.

Following panelists' presentations, there will be time for discussion with the audience.

The meeting is a follow-up to the "Planning for Growth in Comal County" conference held last February, in response to attendees' request for more information about how to preserve open space and unique areas in Comal County as development continues at a rapid pace.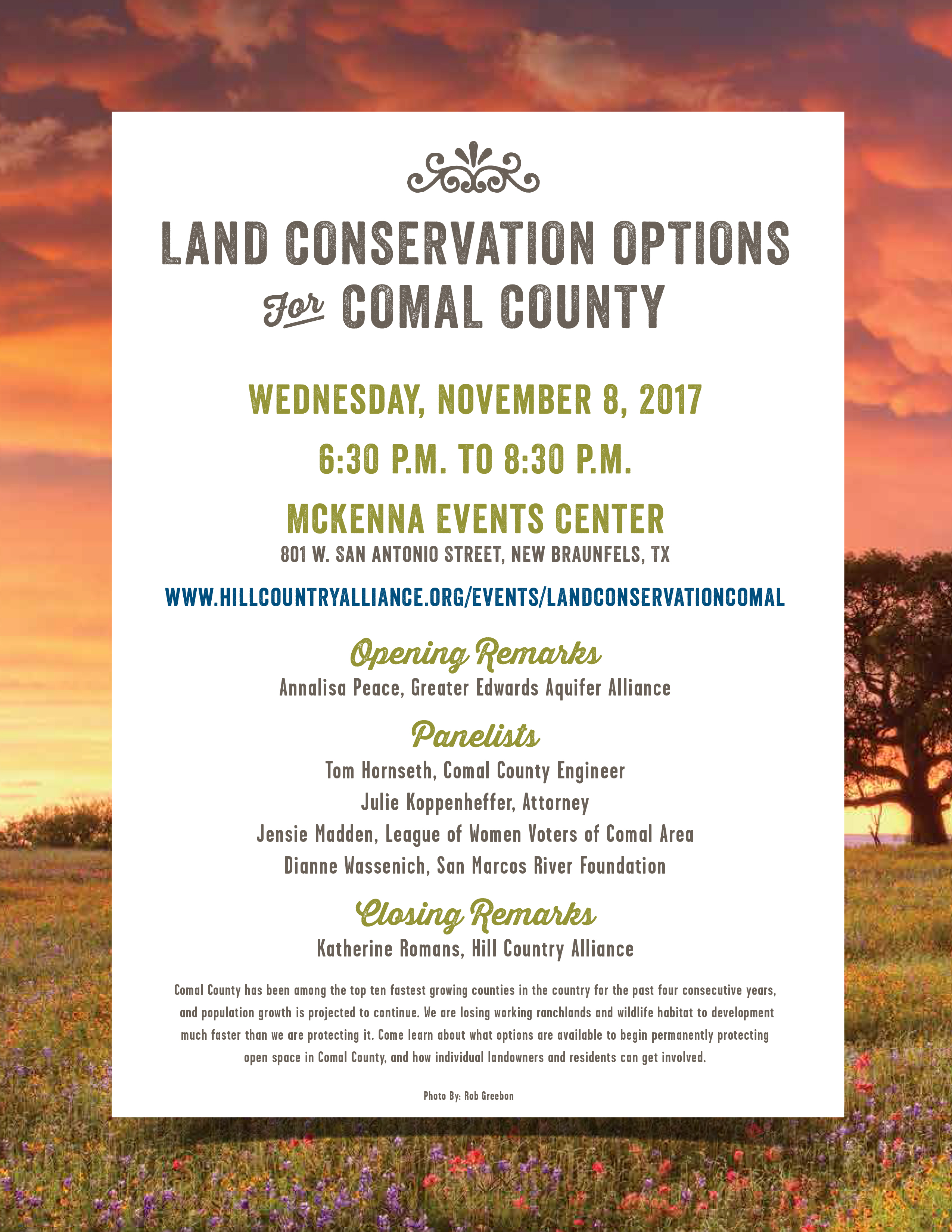 Time

(Wednesday) 6:30 pm - 8:30 pm