Mission Statement
"The mission of the Hill Country Alliance is to bring together an ever-expanding alliance of groups throughout a multi- county region of Central Texas with the long-term objective of preserving open spaces, water supply, water quality and the unique character of the Texas Hill Country."
HCA's Collaborative Strategy to Protect the Hill Country: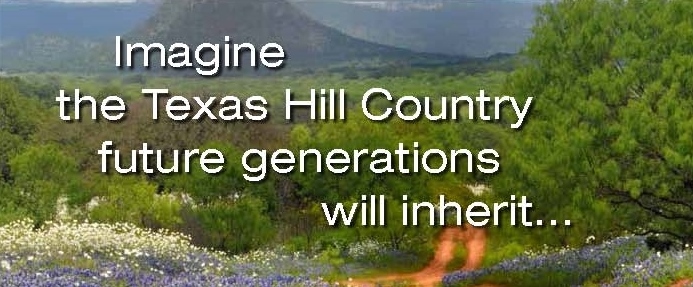 Guiding Principles and Values
The Hill Country Alliance is dedicated to ensuring for future generations an opportunity to enjoy the unique features of the Hill Country region, including the countless spring-fed streams, its multi-ethnic and agricultural heritage, and spectacular scenic beauty.
HCA recognizes the importance of bringing together

diverse people and perspectives

to tackle the difficult challenges our region faces. While the actions needed to sustain the Hill Country vary across the region, there is a shared interest in respecting private property rights and encouraging locally grown solutions.

HCA recognizes that

growth in the Hill Country, if it happens in a thoughtful way,

can protect and even enhance the natural and economic resources of our region, rather than detract from them. A key to the future of our region is promoting sources of income for landowners and businesses so that future generations are motivated to keep ranches intact and small towns vibrant.  

HCA believes

information sharing and education

are key to our work in building the foundation for long-term change that we need. We work to make readily available honest and fair information, along with opportunities for participation in decisions that will shape our future. 

HCA

accomplishes much of its work by supporting partner organizations and entities, and by bringing people together to work more strategically, to identify and fill gaps in existing efforts, and to raise awareness of the efforts of our partners. By building the capacity of our partners, key decision makers, and community leaders, we can ensure that thoughtful conversation is converted to meaningful action. 
How HCA Works
The Hill Country Alliance brings people, public agencies, businesses, and private organizations together to address challenges and build consensus. We are inclusive and work collaboratively with a broad range of partners to share resources, set common goals, and reduce redundancy. We have a large geographical scope to foster big-picture, regional thinking. We host conversations in all shapes and sizes to foster education and understanding between people of different interests, values, and perspectives. We are adaptive and responsive to the ever-changing needs and issues of our region. We are a lean and frugal organization, full of passion, spiritual energy and joyful optimism. We are brokers of ideas and agents for change. We accomplish our work through four main types of activities:
Education and Outreach

: We raise awareness of key issues, galvanize response to developing threats, bridge common gaps, and build conversation around difficult challenges. We work to build an ever-expanding base of engaged and informed citizens.  

Gentle Advocacy

: We connect with decision makers to respond to natural resource issues at the local, regional and state level. We convey our messages through participation in key policy conversations, by submitting public comments, and responding to new permit applications that may cause environmental degradation. We communicate regularly with elected officials and staff, and convene partners to identify policy opportunities.   

Capacity Building

: We build the ability of our own organization, but also our partner organizations, to be more successful in achieving our missions. We support sound science and conduct research that can inform better decision making. We seek opportunities to share resources and reduce redundancies. 

Developing Partnerships and Networks:

We seek a leadership role in building a network of collaborative, strategic partners. We find opportunities to engage nontraditional partners and thoughtfully grow the network of collaborators interested in the long-term health of the Hill Country. We look for ways to scale up our impact.