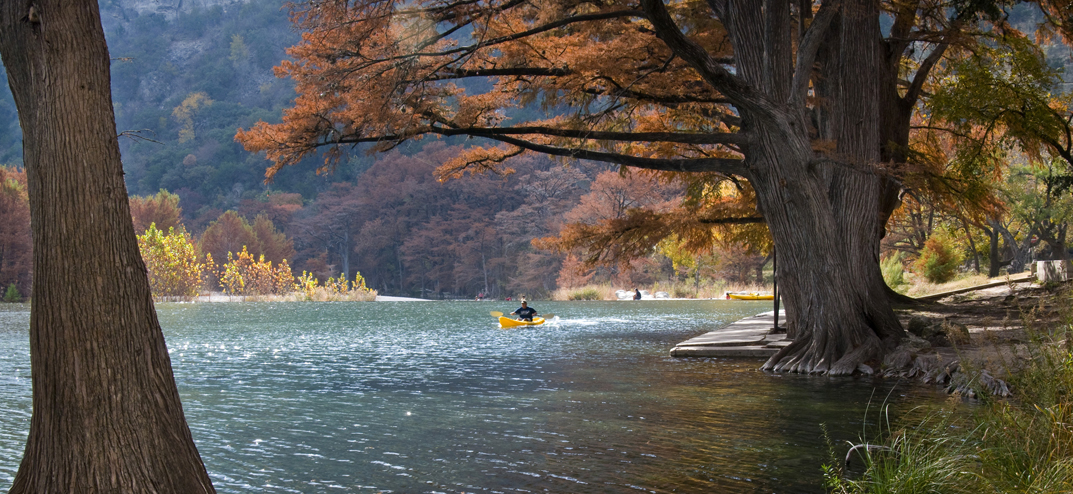 Photo: Jane Kelley
Water Planning
Where our future water supply will come from and how and where it will be used will have significant effects on the Hill Country's quality of life. Our creeks and streams are an undeniable part of the Hill Country's heritage. Because so many of these surface water features are directly connected to groundwater sources (aquifers), accounting for groundwater supplies, surface water supplies and human needs through sound water planning is essential to protecting and maintaining the historical qualities of the land.
The state water planning process is designed to incorporate expertise developed at the local level. River authorities plan for future surface water needs, and local Groundwater Conservation Districts (GCDs) do significant work in estimating and planning for future groundwater availability based on long term population projections. Texas accomplishes statewide water planning through two grass-roots regional planning systems.
Each major aquifer has a regional groundwater planning group made up of member groundwater conservation districts (GCD) called a Groundwater Management Area (GMA). The Hill Country is largely covered by GMA 7, 9, and 10. GMAs meet to plan for whole aquifer management and to set future conditions of the aquifers that they are responsible for managing. Those plans represent the locally decided desired future conditions (DFC) of area aquifers. Here is a thorough explanation of that process. Each GMA sends its specific DFC to the Texas Water Development Board who determines the volume of water that may be extracted such that the DFC is not exceeded by pumping. That volume of water is called the Modeled Available Groundwater (MAG) amount.
Whole-system water planning is based geographically on river basins and is carried out by Regional Water Planning Groups (RWPG). Each region is represented by a group of local stakeholders and aquifer managers who develop a written plan that accounts for water needs, supplies and strategies to develop new sources of water where future shortages are expected. These plans are reviewed by the Texas Water Development Board, the state agency responsible for water supply planning, and are consolidated into the State Water Plan.
Planning occurs on a five year rotating cycle with a 50-year outlook. Regional planning groups have completed their regional water plans and they have been integrated into the draft 2022 State Water Plan. The Hill Country includes portions of planning regions F, J, K and L.
Region F: Upper Colorado and Pecos River Basins
Region J: Plateau Regional Water Planning Group
Next meeting: Tuesday, July 27, 2021 @ 10:00 a.m. – Virtual Meeting
Region K: Lower Colorado Regional Water Planning Group
Region L: South Central Texas Regional Water Planning Group
Next meeting: Thursday, August 5, 2021 @ 9:30 a.m. – Location TBD
The Regional Water Planning Groups have completed their plans and they have been included into the 2022 State Water Plan.
The public is encouraged to make comment on future State Water Plans. These comments will be considered and voted on for inclusion and implementation in the next planning cycle by the Regional Water Planning Groups.
Get to know what Regional Water Planning Group (RWPG) you live in

(Click the map to view a larger version)
2016 HCA Public Comments to the Hill Country's Regional Water Planning Groups
The state is also in the process of implementing a new planning process for environmental flows developed under SB 3, a bill passed in 2007. The environmental flows process is designed to provide science-based standards for fresh water levels required to sustain healthy ecosystems in the state's river basins and estuaries. Final standards will ultimately be set by TCEQ rule.
Current and proposed water transfer projects affecting the Hill Country
There are numerous existing and proposed water plans that call for transfers of water from one area to another. Hydrologists recognize the economic and ecologic perils of de-watering one region to satisfy the desires of another. There are proven examples of unregulated sprawl generated by externally sourced water supplies. Unregulated sprawl creates a variety of stresses that put the Hill Country's clean rivers and aquifers at risk.
The Myth: Surface water pipelines can supply growth while protecting springs and failing wells.
In the early 2000s, the LCRA was in wholesale water expansion mode. Declining Trinity Aquifer levels in the Dripping Springs area effectively limited development and Hays County developers needed more water to fuel growth. LCRA proposed a pipeline from Lake Travis along US-290 West to Dripping Springs in order to serve the growing Northern Hays County corridor with water.
That controversial pipeline was promoted to the public as water source that would allow growth in the Dripping Springs area while decreasing pumping from the over-burdened Trinity Aquifer — and its rapidly declining springs and wells.
The Reality: Growth allowed by the pipeline's water infusion has resulted in an increase of unregulated Trinity Aquifer pumping from over 3.5-million gallons per year in 2002 to almost 88-million gallons per year in 2014 – a 2354.54% increase. Aquifer mining will likely continue to increase at ever higher rates as development continues and the pipeline's capacity is maximized. Read the complete study here.
One controversial project is the San Antonio Water System's $3.4 Billion SAWS/Vista Ridge Pipeline Project which proposes to pump almost 16.3 billion gallons of water per year from the Carrizo-Wilcox Aquifer underneath Burleson County to northwest San Antonio. Read more here
Recent Water Planning News
Where did the time go? Time flies. There's no time like the present. Don't waste your time. People are familiar with the notion that time marches on at its own…
read more